Digital video surveillance system Patriot
Video surveillnace system "Patriot" - easy to use and very reliable video surveillance system. Can be supplied in different editions – detail information about specifications and prices can be found in the catalog "Boards for video surveillance system Patriot". Distinctive feature of this video surveillance system is quick search of events by changing in the shot, and also free of charge working places and multi-server.
Video surveillance system "Patriot" is also supplied in the form of ready-to-use solutions – video recorders "Patriot".
Digital vide surveillance system Patriot is multipurpose solution for video surveillance objects. Network architecture set inadvance and also avalability of SDK as ActiveX-components that allow to build in customers part of the system into other applications, that's why Patriot system is universal control platform.
Except for analogue video cameras, IP and Internet video cameras also can be plugged in Patriot system. Such opportunity helps to control remote subsidiaries quickly or use active local network at the enterprise.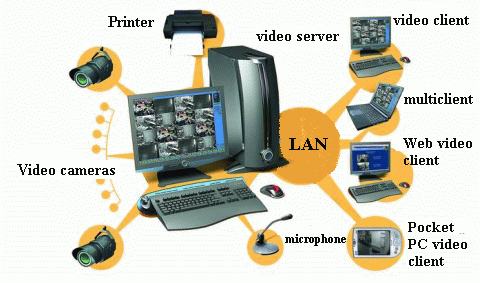 The main components of business success:
reliability of your personnel
complying with the regime and internal regulations of the enterprise
security on the territory of the enterprise
protection of commercial information leakage
Often the main aim of video surveillance system is considered as observation and prompt reaction of guard to intruders' actions. But development of up-to-date technologies moved this function away on the second place, now it's only one of system functions. Aside from prompt surveillance and detection of clients' and employees' illegal actions, evidential base is created for investigating cases of shortages, thefts,criminal acts, controversial situations. In such cases quick search and transference of separate files/fragments into data carriers are available.
Using digital video surveillance system you can following:
protect the territory of the enterprise from penetration of outsiders;
prevent personnel abuse, guard's conspiracies and negligence;
control employees' work, their arrival and departure time;
improve employees' discipline;
objectively analyze circumstances of emergency situations;
increase reliability and objectivity of collection and storing of information.
For reaching listed above aims we offer digital video surveillance and security system on the basis of Patriot Pro system – as universal, qualitative and reliable mean of information control and collection at your enterprise. With its help you can easily set up surveillance, registration of information, its archiving and if needed data transmitting on the long distance through the telephone lines, cellular networks and local and global networks (the Internet).
Video surveillance system Patriot allows following:
Look through the current information as well as archival record of the time period you are interested in (up to 16 channels at the same time from different video servers)
Use optimal view mode (live, slow-motion, fast-motion, stop frame), variability of the image (intensification, sharpness etc.)
Get access to the data and system control at any time from any place (with help of PC, PDA, mobile phone);
Set up restrictions and priorities to the access to the system for different users;
Use the system as guard one through the function of motion detection;
Send messages about alarming events by the e-mail, on the pager or mobile phone (SMS).
Attention! Quick search of necessary fragments according to set characteristics, remote review always help to keep operation of the enterprise under control.
Thanks to the multifunctionality of the system as well as flexibility and variety of the settings you can use the system for solving specific tasks as well as universal surveillance somplex, data collection and srorage. As a consequence – rational use of invested funds and its prompt payback. Demonstrative faciity of system payback is car wash! After installation of the system revenue increases in 1,5-4 times. You may agree that it's not bad!
In general video surveillance system consists of two parts: video server and video client. Video Server – is a computer system equipped with video capture card connected to video cameras, specific software is installed. Video client – is any computer with the client's software, connected to the network.
Perhaps the most requested feature of the video surveillance system "Patriot Pro" is search by changes in the frame, with its help you can quickly analyze the events. What is more, for each particular type of activity this function can be used according to the set goals:
in the cafes, bars, hookah and billiard rooms – to count the amount of customers
at the car wash – to count the amount of cars (and besides with prompt control of execution)
production to control shipments
at the shop – to count the amount of customers, control movement of goods, etc.
If you have any questions connected to the video surveillance system Patriot, you can apply us in any convenient way. The Vostok company has extensive network of dealers and offices in Ukraine: send your requests – our partners will install video surveillance system at any even remote point in the country.
The Vostok Company invites to cooperation mounting companies – we offer discounts for demo kit, teach, consult, help with searching of customers, introduction and implementation of projects. Visit the section "For dillers". Register at our website.