Video surveillance system Spotter
Spotter is video surveillance computer system that is used for video surveillance at small and medium objects: in offices, warehouses, industrial shops and objects. Besides, it can be installed in country house, cottage or apartment, at parking, filling station, currency exchange, and also in stores, cafes, restaurants, casinos and clubs. Video surveillance system Avidis Spotter is supplied as one or several video capture cards, drivers for video capture cards and specialized software.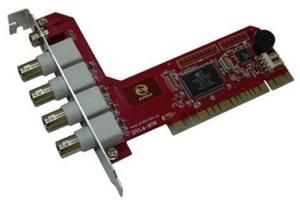 Video surveillance system Spotter can be extended without any problems. For example, if there is Spotter 1.4 on your computer, you can purchase one more Spotter 1.4, set a card to the free slot of the same computer, where Spotter 1.4 has been already installed, and in such a way you will get system 2.8 for eight multiplexed channels.
You can choose, order and purchase video surveillance system Spotter in the catalog of cards for video surveillance systems.
Capabilities of the Spotter system:
Video surveillance
triplex regime:
watching of video archive, recording and surveillance at the same time;
from 1 to 16 cameras simultaneous
displaying templates of split-screen
convenient drop-down context menu for each of the cameras
you can turn on/off the camera, detector and record, set and delete detection zones with one mouse click;
displaying of channels status by contouring of video frame with different colors and icons on the control board (surveillance,/record/ detection record/signal).
Record of video data
continuous
by motion detector
by operator's command
by operation of external sensors record in format (excellent quality and high level of compression);
"ring" record with restriction to free space on the hard drive
adjusting of displaying speed and image inputting;
Motion detection software
Flexibly adjusted intellectual algorithm of motion detection;
filtering of external noise (noise of camera, rain, snow, highlights);
adjusting of detector by contrast and size of moving object
quick installment and deleting of detection zones;
programmable reactions of the system to the detector operation.
Video archive
Unique element of navigation in the archive "Double scale" allows getting accuracy of instant positioning in the limit of several seconds while you use mouse.
Ergonomic and logically matured tools provide efficient archive navigation.
Protection
System start in quite mode (program is not visible for PC users);
Password to access to general system configuration, password to the catalog view.