Dr. Web 8.0: free transition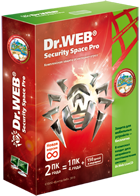 Dr. Web – Russian developer of information security means – communicates that the transition to version 8.0 from earlier versions of Dr. Web is absolutely free of charge for Windows users.
For you to change the version quickly and comfortably, we offer step-by-step pamphlet of how to update Anti virus Dr. Web for Windows and Dr. Web Security Space to the 8.0 version.
Neither electronic licenses users, nor Dr. Web boxed versions users pay for updating the version. We wish you to use new Dr. Web products with pleasure!