Self-adhesive paper label 58х40 mm Vellum / 1000 pieces
66,72 UAH
Wholesale 64,72 UAH
The self-adhesive labels are ideal for the products marking but these should not be stored in the moisture conditions, under ultraviolet emission and harsh environment.
58 mm x 40 mm paper label is in the demand for bar-code marking. There are some situations when the product is not marked with bar-code in such a case the bar-code can be printed on the small paper label. The printing is accomplished wit the help of ink ribbon. If you need small amount of labels, you don't have to purchase label printer then you may place an order for the labels in our company. You will find extra information in the section "Instant print".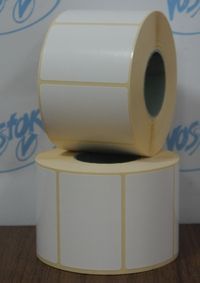 Paper self-adhesive 58x40 – is the most essential consumable which is used for:
products marking in the food industry;
confectionery products marking;
bulk materials marking;
alcohol beverages marking;
building materials marking;
medicines marking etc.
The main advantages of the roll label 58 x 40:
low cost;
broad application field;
using of reasonably priced ink ribbon;
high speed of the information application.
Currently self-adhesive paper label is the most essential consumable material.
General descriptions
Producer of equipment
Tama, Ukraine
Technical descriptions
Size, mm
58 х 40
Material
Semi-glossy paper
The number of labels per roll
1000
The diameter of the sleeve
41 mm
Label width (range, mm)
46-70
Purchase and delivery terms
Buy Self-adhesive paper label 58х40 mm Vellum / 1000 pieces you can send an order from the site by calling
+38(056) 720-90-37, +38(095) 470-65-11, +38(067) 384-69-83,
or sending an e-mail:
vostok@pkf.dp.ua
.
Delivery
*
is from Dnipro trucking companies in all regions of Ukraine: Kyiv, Kharkiv, Lviv, Odessa, Zhitomir, Kiev, Ivano-Frankivsk, Kirovohrad, Luhansk, Lutsk, Mykolaiv, Poltava, Rivne, Sumy, Ternopil, Uzhhorod, Kherson, Khmelnytsky, Cherkasy, Chernihiv, Chernivtsi and other regions.
*
If the condition does not specify delivery and payment of delivery is not included in the price of the goods
.
By purchasing Self-adhesive paper label 58х40 mm Vellum / 1000 pieces from the company Vostok, you get quality service support, warranty services, information and advisory support.
People often buy with this product