Круглые этикетки Brady WIL-1-350-5 (brd80907) предназначены для контроля попадания влаги внутрь какого-либо устройства. При попадании на этикетку влаги она меняет цвет с белого на красный. Воздействие высоких температур (высушивание) не приведет к обратной смене цвета и потере индикации.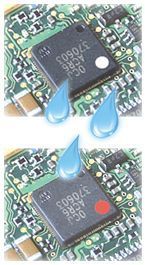 Этикетки WIL-1-350-5 обеспечат надежную индикацию попадания воды или влаги с целью контроля гарантийных условий, анализа поломок и работах по обслуживанию. Эти этикетки не предназначены для печати на термотрансферных принтерах и используются только как этикетки индикации попадания влаги.
Особенности и характеристики этикетки
Обеспечивает четкое подтверждение контакта с водой изменением цвета этикетки с белого на красный.
Цвет впоследствии не меняется даже после продолжительного погружения в воду.
Противостоит теплу и старению влажности без ложной индикации.
Касание рукой не вызывает в этикетке ложной индикации.
Высококачественный акриловый клей.
Размер этикетки — круглая этикетка диаметром 4,06 мм.
Материал — полиэстер В-350/ламинированная бумага.
Цвет материала — белый матовый.
В рулоне — 5000 этикеток.
General descriptions
Producer of equipment
BRADY
Code
brd80907
Purchase and delivery terms
Buy BRADY WIL-1-350-5 you can send an order from the site by calling
+38(056) 720-90-37, +38(095) 470-65-11, +38(067) 384-69-83,
or sending an e-mail:
vostok@pkf.dp.ua
.
Delivery
*
is from Dnipro trucking companies in all regions of Ukraine: Kyiv, Kharkiv, Lviv, Odessa, Zhitomir, Kiev, Ivano-Frankivsk, Kirovohrad, Luhansk, Lutsk, Mykolaiv, Poltava, Rivne, Sumy, Ternopil, Uzhhorod, Kherson, Khmelnytsky, Cherkasy, Chernihiv, Chernivtsi and other regions.
*
If the condition does not specify delivery and payment of delivery is not included in the price of the goods
.
By purchasing BRADY WIL-1-350-5 from the company Vostok, you get quality service support, warranty services, information and advisory support.