Printing of jewelry pieces
450 UAH
Wholesale 420,00 UAH
Компания «Восток» оказывает услуги по оперативной печати ювелирных бирок.

Бирка картонная белая.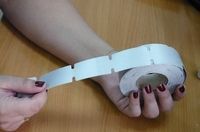 Печать на ней возможна одним цветом (черный, красный, зеленый, синий, оранжевый, коричневый, золотой, серебряный). На ювелирной бирке возможно напечатать название, артикул, состав, а также другие характеристики конкретного изделия. Для получения долговечных износостойких бирок мы используем прочный картон и печатаем на нем с помощью термотрансферного принтера этикеток и риббона.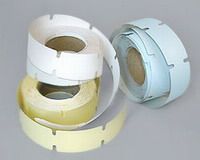 Для облегчения отделения бирок друг от друга предусмотрена перфорация на отрыв. Для крепления бирок на изделие предусмотрено отверстие.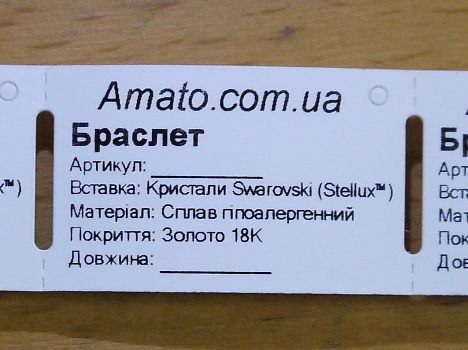 Минимальный тираж 1 тыс. шт. Стоимость указана за печать 1 тыс. шт. черным цветом с одной стороны.
Если необходимо печатать много переменной информации, тогда предлагаем приобрести принтер для печати ювелирных бирок и чистые бирки-пустышки, а затем самостоятельно на них печатать. Это будет самый простой и дешевый вариант изготовления ювелирных бирок.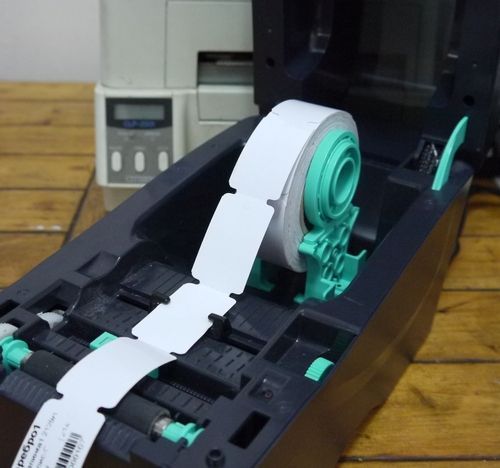 General descriptions
Producer of equipment
VOSTOK, Co., Ltd
Technical descriptions
Material
Cardboard
Purchase and delivery terms
Buy Printing of jewelry pieces you can send an order from the site by calling
+38(056) 720-90-37, +38(095) 470-65-11, +38(067) 384-69-83,
or sending an e-mail:
vostok@pkf.dp.ua
.
Delivery
*
is from Dnipro trucking companies in all regions of Ukraine: Kyiv, Kharkiv, Lviv, Odessa, Zhitomir, Kiev, Ivano-Frankivsk, Kirovohrad, Luhansk, Lutsk, Mykolaiv, Poltava, Rivne, Sumy, Ternopil, Uzhhorod, Kherson, Khmelnytsky, Cherkasy, Chernihiv, Chernivtsi and other regions.
*
If the condition does not specify delivery and payment of delivery is not included in the price of the goods
.
By purchasing Printing of jewelry pieces from the company Vostok, you get quality service support, warranty services, information and advisory support.
People often buy with this product