Automobile lining AXIS 15-P (dynamics)
91 188 UAH
Wholesale 88 452,36 UAH
Автомобильные весы АКСИС 15-П предназначены для взвешивания автомобилей в динамике. Скорость автотранспорта не должна превышать 5 км/ч. Для уменьшения погрешности измерений, можно осуществлять процедуру взвешивания с остановкой автотранспорта на весовой платформе. Для установки весов необходима горизонтальная площадка с твердым покрытием (асфальтированный участок дороги или бетонные плиты).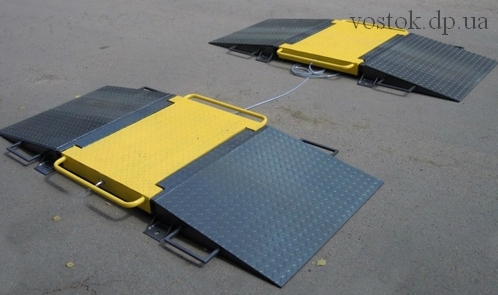 Платформа весов металлическая и рифленая для уменьшения скольжения колес, выполнена из разборных модулей для уменьшения габаритных размеров, что удобно при транспортировке.
Габаритные размеры грузоприемной платформы: длина 1895 мм, ширина 620 мм, что позволяет взвешивать почти все автомобили с двумя и тремя осями. Общая масса автотранспорта не ограничена, а нагрузка на одну ось не должна превышать 15 т.
В весах используются датчики «Keli», весопроцессор AXIS SE-22/N/2xLCD с двумя LСD индикаторами, класс защиты IP67. Питание осуществляется от электрической сети 220 В.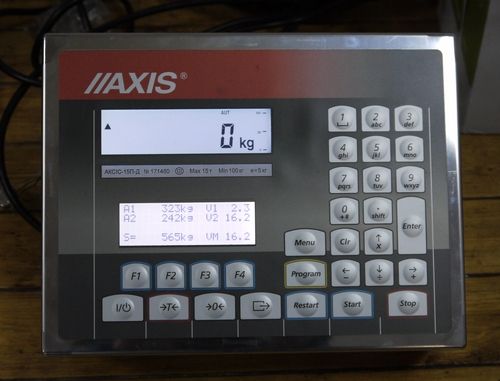 Основные преимущества:
экономные;
компактные и легкие в транспортировке;
монтируются на любом твердом покрытии.
Весы мобильные. Для удобной транспортировки предусмотрены ручки на платформе. Комплект поставки: весовой терминал AXIS SE-22, две грузоприемные платформы, два пандуса длиной 702 мм.
Срок изготовления 5-7 рабочих дней. Обращаем внимание, что для автомобильных весов это очень сжатые сроки.
General descriptions
Producer of equipment
AXIS, Poland
Technical descriptions
MLW, t
15
Discreteness of counting out
5 kg
Type of indicator
ЖКИ
Industrial class of defence
IP-68
Load plate material
Steel riflenaya
Power
сеть 220 В
Dimensions, mm
1895х620
Type platform
Poosnogo skid
Functions
HOLD
Yes
An automat setting of zero
Yes
Purchase and delivery terms
Buy Automobile lining AXIS 15-P (dynamics) you can send an order from the site by calling
+38(056) 720-90-37, +38(095) 470-65-11, +38(067) 384-69-83,
or sending an e-mail:
vostok@pkf.dp.ua
.
Delivery
*
is from Dnipro trucking companies in all regions of Ukraine: Kyiv, Kharkiv, Lviv, Odessa, Zhitomir, Kiev, Ivano-Frankivsk, Kirovohrad, Luhansk, Lutsk, Mykolaiv, Poltava, Rivne, Sumy, Ternopil, Uzhhorod, Kherson, Khmelnytsky, Cherkasy, Chernihiv, Chernivtsi and other regions.
*
If the condition does not specify delivery and payment of delivery is not included in the price of the goods
.
By purchasing Automobile lining AXIS 15-P (dynamics) from the company Vostok, you get quality service support, warranty services, information and advisory support.