ENG: Весы бесфундаментные АКСИС 30-7К Фермер
188 010 UAH
Wholesale 182 369,70 UAH
Бесфундаментные автомобильные весы колейного типа АКСИС 30-7К Фермер предназначены для небольших фермерских хозяйств, где взвешивания может происходить в полевых условиях. Позволяют взвешивать груз на автомобилях типа КАМАЗ, МАЗ, ЗИЛ, ГАЗ, ГАЗель длиной между осями до семи метров.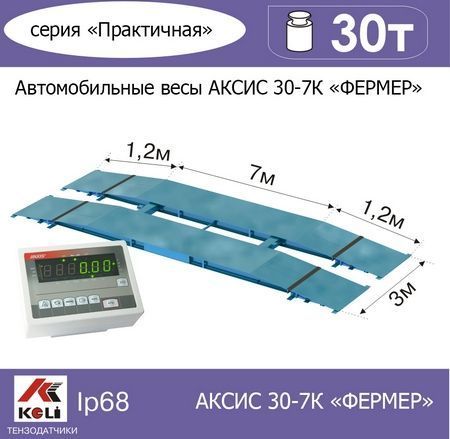 Конструктивно автомобильные весы бесфундаментные АКСИС 30-7К Фермер состоят из стальной грузоприемной платформы и пандусов (въезд/выезд), которые удобно транспортировать и легко соединить в единую конструкцию на месте эксплуатации. Для монтажа весов достаточно иметь твердую горизонтальную поверхность, а специальная конструкция весов позволяет их смонтировать за три часа.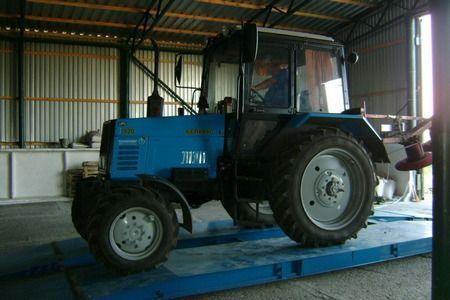 Автомобильные весы АКСИС 30-7К Фермер имеют грузоприемную платформу и весопроцессор AXIS, соединенного с весами кабелем. Платформа опирается на 8 тензометрических датчиков силы, установленных на металлических плитах. Весопроцессор устанавливается в удобном для вас месте возле автомобиля, который взвешивается.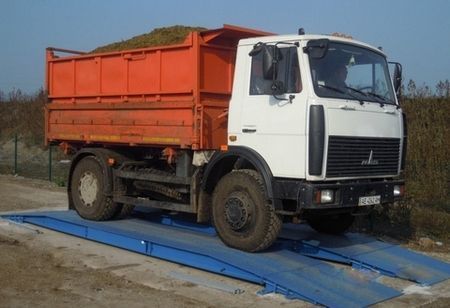 Особенности и преимущества весов АКСИС 30-7К Фермер
Бесфундаментное исполнение.
Быстровозводимая конструкция.
Отсутствие бетонных работ.
Платформа весов и наездные пандусы накрытые рифленым листом.
Низкая высота заезда.
Высококачественные комплектующие.
Не требует накрытия.
Четыре наездных металлических пандуса.
Функции весов
Функция автонуля.
Функция тарирования по всему диапазону.
Функция суммирования.
Функция выбора работы с принтером или компьютером (RS232С) для автоматизации автомобильной весовой.
General descriptions
Producer of equipment
AXIS, Poland
Technical descriptions
MLW, t
30
the least limit of weighing
200 kg
Discreteness of counting out
10 kg
Type of indicator
LED
Amount of indicators
1
Range of workings temperatures, °C
от -30 до +45
Size of platform
7×3 м
Load plate material
Steel riflenaya
Consumable power
8 Vt
Weight,
220
Type platform
Full-size
Functions
An automat setting of zero
Yes
Mass of container
Yes
Purchase and delivery terms
Buy ENG: весы бесфундаментные аксис 30-7к фермер you can send an order from the site by calling
+38(056) 720-90-37, +38(095) 470-65-11, +38(067) 384-69-83,
or sending an e-mail:
vostok@pkf.dp.ua
.
Delivery
*
is from Dnipro trucking companies in all regions of Ukraine: Kyiv, Kharkiv, Lviv, Odessa, Zhitomir, Kiev, Ivano-Frankivsk, Kirovohrad, Luhansk, Lutsk, Mykolaiv, Poltava, Rivne, Sumy, Ternopil, Uzhhorod, Kherson, Khmelnytsky, Cherkasy, Chernihiv, Chernivtsi and other regions.
*
If the condition does not specify delivery and payment of delivery is not included in the price of the goods
.
By purchasing ENG: весы бесфундаментные аксис 30-7к фермер from the company Vostok, you get quality service support, warranty services, information and advisory support.