ENG: Подкладные весы для еврофур АКСИС 15-П Д
122 976 UAH
Wholesale 119 286,72 UAH
Подкладные весы для еврофур АКСИС 15-П Д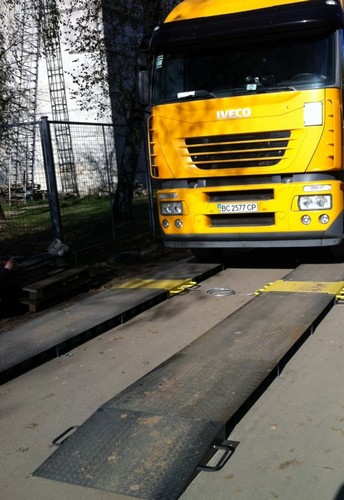 Автомобильные поосные весы для взвешивания в движении. Весы поставляются с въездными пандусами.
Чем отличаются данные весы от конкурентов?
Хоть весы имеют длинную платформу, но они мобильные. Исполнение поверхностное. Имеются удобные ручки для переноса платформ. Такие весы чаще всего используются для взвешивания фур и для этого автомобиль может не останавливаться, а проехать по весам со скоростью 5 км/ч. Весы всепогодные и имеют тройную покраску антикоррозийной краской. На улице весы АКСИС 15-П Д не требует накрытия.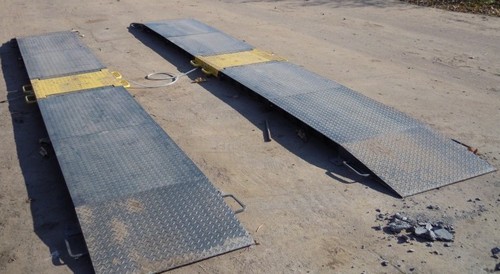 Весы служат для весового контроля автомобиля, коммерческого весового учета, контроля грузового транспорта через зоны таможенного контроля и КПП. При взвешивании автомобиля, снимаются данные осевой нагрузки, суммируются и автоматически высвечиваются на весовом терминале.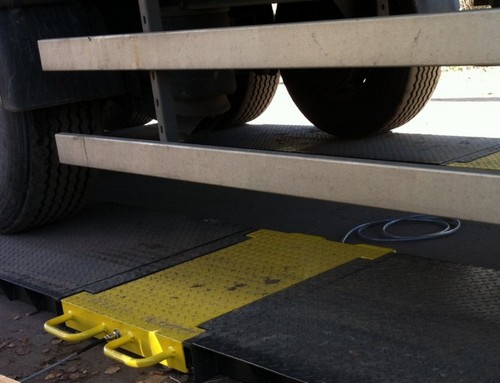 Масса автотранспорта и груза не ограничена, но нагрузка на одну ось не должна превышать 15 тонн. Для уменьшения погрешности измерений — необходима остановка автотранспорта на весовой платформе.
Весы отлично интегрируются в систему учета и могут быть подключены к системе видеонаблюдения.
Датчики фирмы «Keli», весопроцессор AXIS SE-22/N/2xLCD (2-индикатора, LСD, класс защиты IP67, питание от сети 220 В).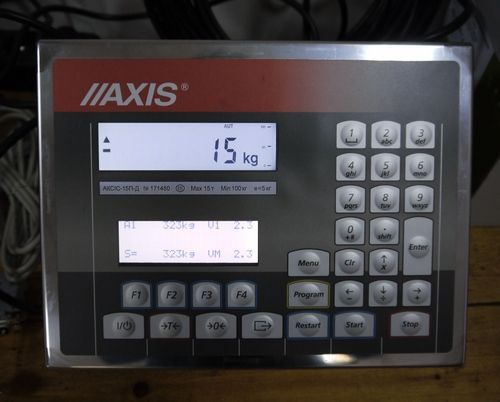 Комплект поставки: весовой терминал AXIS SE-22, 2 грузоприемные платформы, 4 пандуса длиной 2000 мм.
General descriptions
Producer of equipment
AXIS, Poland
Technical descriptions
MLW, t
15
на одну ось
Discreteness of counting out
10 kg
Type of indicator
LED
Amount of indicators
1
Size of platform
800х500
Load plate material
Steel is painted
Consumable power
8 Vt
Power
220В, 50ГЦ
Dimensions, mm
800х620
Type platform
Poosnogo skid
Functions
HOLD
Yes
An automat setting of zero
Yes
Mass of container
Yes
Automatic disconnecting of power
Yes
Features
Diagnosis of faults
Yes
Purchase and delivery terms
Buy ENG: подкладные весы для еврофур аксис 15-п д you can send an order from the site by calling
+38(056) 720-90-37, +38(095) 470-65-11, +38(067) 384-69-83,
or sending an e-mail:
vostok@pkf.dp.ua
.
Delivery
*
is from Dnipro trucking companies in all regions of Ukraine: Kyiv, Kharkiv, Lviv, Odessa, Zhitomir, Kiev, Ivano-Frankivsk, Kirovohrad, Luhansk, Lutsk, Mykolaiv, Poltava, Rivne, Sumy, Ternopil, Uzhhorod, Kherson, Khmelnytsky, Cherkasy, Chernihiv, Chernivtsi and other regions.
*
If the condition does not specify delivery and payment of delivery is not included in the price of the goods
.
By purchasing ENG: подкладные весы для еврофур аксис 15-п д from the company Vostok, you get quality service support, warranty services, information and advisory support.