Laboratory scales TVE-0,21-0, 001
8 250 UAH
Wholesale 7 837,50 UAH
ТВЕ-0,21-0,001 — электронные лабораторные весы второго класса точности по ДСТУ EN 45501. Наибольший предел взвешивания составляет 210 г, дискретность 0,001 г. Это надежные и недорогие весы для лабораторий пищевых предприятий, а также лакокрасочных производств. Весы обеспечат точную работу с рецептурой.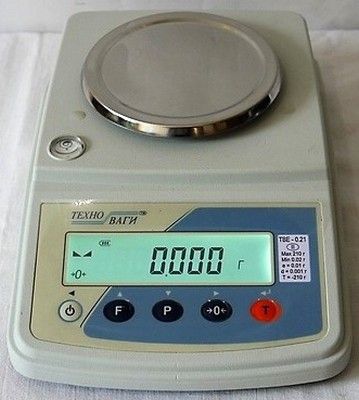 Жидкокристаллический дисплей с подсветкой обеспечивает четкое отображение результатов взвешивания. Подсветка включается при изменении показаний. Время отключения подсветки можно регулировать в меню настройки весов.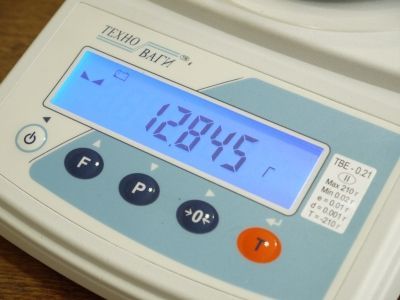 Индикатор уровня в лабораторных весах ТВЕ 0,21 находится возле передней панели, что позволяет с легкостью контролировать правильность уровня весов и при необходимости его регулировать.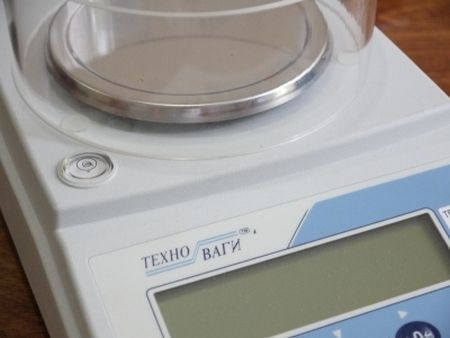 Лабораторные весы ТВЕ-0,21-0,001 оснащаются COM-портом (RS 232), который обеспечивает возможность подключить их к компьютеру и автоматизировать учет результатов взвешивания. Наличие RS 232 очень важно при автоматизации учета и контроля, например, в ювелирных магазинах или ломбардах. Весы подключаются к программе учета и одновременно передают результаты взвешивания в систему видеонаблюдения «Интеллект».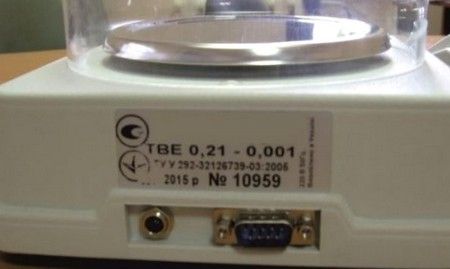 Для защиты от сквозняков лабораторные весы ТВЕ-0,21-0,001 комплектуются защитным колпаком из прозрачного пластика.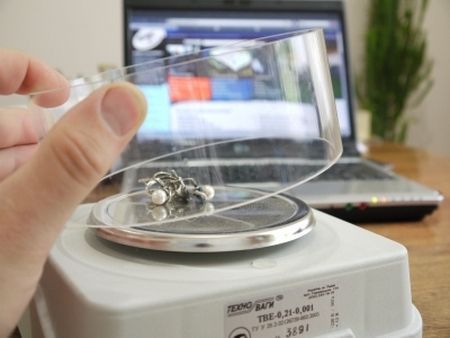 Функции весов
Взвешивание в граммах и каратах.
Автоматическое тестирование и обнуление.
Компенсация массы тары.
Подсчет штук одинаковых деталей.
Автоматическое выключение дисплея в соответствии с заданным временем.
Контроль ± относительно эталонной массы.

General descriptions
Producer of equipment
Tehnovagi, Ukraine
Class of exactness to on ГОСТ 24104-88
third
Technical descriptions
MLW
210 г
NmPV
0,02 г
ДСТУ EN 45501
II
Discrete, g
0,001
Calibration
External
Type of indicator
ЖКИ
Amount of indicators
1
Range of workings temperatures, °C
от 10 до 35
Size of platform
120 мм
Load plate material
Stainless steel
Accumulator
Yes
Consumable power
6 Vt
Power consumption
10 watts
Power
Сеть от 187 до 242 В
частота 50 Гц
Weight,
4
Dimensions, mm
280 х 180 х 60
Functions
An automat setting of zero
Yes
Mass of container
Yes
Automatic disconnecting of power
Yes
Features
Diagnosis of faults
Yes
Acquisition
Standard
Весы, адаптер, РЭ
Purchase and delivery terms
Buy Laboratory scales TVE-0,21-0, 001, you can send an order from the site, by calling (056) 370-18-18 or send request by e-mail vostok@pkf.dp.ua. Shipping is from Dnepropetrovsk to all regions of Ukraine (Kiev, Kharkov, Donetsk, Lviv, Odessa and other areas). Buying Laboratory scales TVE-0,21-0, 001 East, the company you get quality service support, warranty service, information and advisory support.