3 516 UAH
Wholesale 3 340,20 UAH
Фасовочные электронные весы ВТА-60/6-73-АL-2 применяют для высокоточного взвешивания и фасовки товаров на всех этапах торговых и учетных операций в заведениях общественного питания, магазинах, на почте, в цехах промышленных предприятий. Данная модель отлично подойдет для фасовки и упаковка метизов.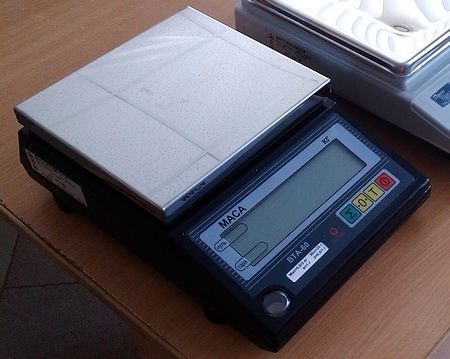 Платформа весов изготовлена из высококачественной нержавеющей стали. Удобство в эксплуатации обеспечивает мембранная клавиатура и два ярких жидкокристаллических дисплея, которые обеспечивают отличное считывание показаний взвешивания при любом освещении.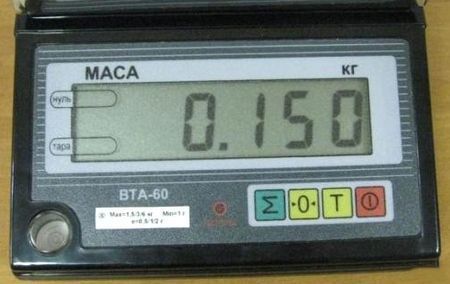 ЖК-дисплей на задней стороне весов.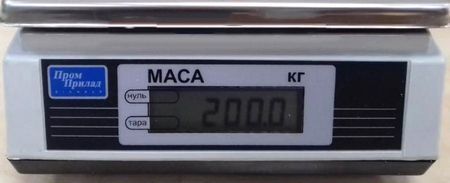 Весы ВТА-60/6-73-АL-2 обладают широким набором разнообразны функций: автоматическая установка нуля, тарирование, работа в штучном режиме, в режиме добавления веса товара и др. Питание весов комбинированное — от сети 220 В, встроенного аккумулятора или сети автомобиля. Это позволяет использовать весы в любых местах без электросети. Встроенный интерфейс RS 232 дает возможность подключать весы к принтеру или компьютеру для автоматизации учета результатов взвешивания.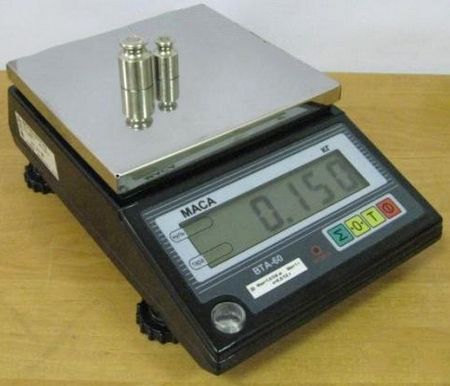 Особенности и функции весов
Двусторонняя жидкокристаллическая индикация.
Платформа изготовлена из коррозиестойкой нержавеющей стали.
Автоматическая установка нуля.
Компенсация массы тары.
Вывод на дисплеи значений массы «брутто» и «нетто».
Работа в режиме взвешивания.
Работа в штучном режиме.
Работа в режиме добавления массы товара.
Работа в условиях воздействия вибрации.
Интерфейс RS232 для связи с принтером или компьютером.
Питание весов — от сети 220 В через адаптер, от встроенного аккумулятора или от бортовой сети автомобиля.
General descriptions
Producer of equipment
Prompribor, Ukraine
Technical descriptions
MLW
6 кг
the least limit of weighing
0,02 kg
Discrete
0,5 г
1 г, 2 г
Type of indicator
ЖКИ
Amount of indicators
2
Range of workings temperatures, °C
от -10 до +40
Size of platform
180 х 190 мм
Load plate material
Stainless steel
Accumulator
Yes
Consumable power
15 Vt
Power
220 В через адаптер, аккумулятор или бортовая сеть автомобиля.
Dimensions, mm
195х300х110
Functions
An automat setting of zero
Yes
Mass of container
Yes
Purchase and delivery terms
Buy вта-60/6-73-аL-2 you can send an order from the site by calling
+38(056) 720-90-37, +38(095) 470-65-11, +38(067) 384-69-83,
or sending an e-mail:
vostok@pkf.dp.ua
.
Delivery
*
is from Dnipro trucking companies in all regions of Ukraine: Kyiv, Kharkiv, Lviv, Odessa, Zhitomir, Kiev, Ivano-Frankivsk, Kirovohrad, Luhansk, Lutsk, Mykolaiv, Poltava, Rivne, Sumy, Ternopil, Uzhhorod, Kherson, Khmelnytsky, Cherkasy, Chernihiv, Chernivtsi and other regions.
*
If the condition does not specify delivery and payment of delivery is not included in the price of the goods
.
By purchasing вта-60/6-73-аL-2 from the company Vostok, you get quality service support, warranty services, information and advisory support.