Штрих-Слим 500М 60-10.20 Д1Н
5 544 UAH
Wholesale 5 266,80 UAH
Штрих-Слим 500М 60-10.20 Д1Н — весы общего назначения, предназначенные для простого взвешивания при фасовке, дозировании товара в торговле и на производстве.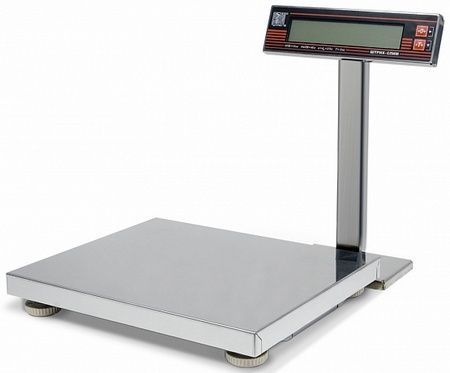 Весы фасовочные Штрих-Слим 500М оснащены большим жидкокристаллическим дисплеем с подсветкой (6 цифр высотой 32 мм + спецсимволы), 24-битным процессором, встроенным тензодатчиком, имеющим сертификат OIML. Все металлические детали корпуса дисплея и платформы весов выполнены из нержавеющей стали. Размер грузоприемной платформы составляет 500х400 мм. При необходимости, опционально дисплей можно разместить на стойке.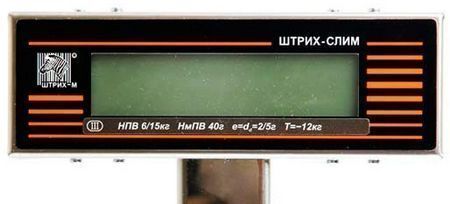 Питание весов в стандартной комплектации осуществляется от сети 220 В, но опционально можно оснастить весы Штрих-Слим 500М встроенным аккумулятором. Это позволяет эксплуатировать весы в местах с отсутствием электричества.
Функции и особенности весов
Установка нуля автоматически и вручную.
Определение массы товара с учетом тары.
Многократное тарирование.
Возможность встраивания весов в кассовые боксы, столы и др.
Самые тонкие весы.
Простая и надежная металлическая конструкция.
Платформа и корпус дисплея из нержавеющей стали.
Большой дисплей с подсветкой.
Новейший 24 битный АЦП.
Встроенный тензодатчик, имеющий сертификат OIML.
Интерфейс RS 232 (опция).
Встроенный аккумулятор (опция).
Выносной дисплей на стойке (опция).
Можно заказать модель весов фасовочных Штрих-Слим 500М с наибольшим пределом взвешивания 150 кг.
General descriptions
Producer of equipment
Shtrih-m, Russia
Technical descriptions
MLW
60 кг
the least limit of weighing
0,2 kg
Discrete
20 г
Type of indicator
ЖКИ
Amount of indicators
1
Range of workings temperatures, °C
from -10 to +40
Size of platform
500х400
Load plate material
Stainless steel
Power
220 В через адаптер
Weight,
15
Dimensions, mm
500х400х65
Functions
An automat setting of zero
Yes
Mass of container
Yes
Purchase and delivery terms
Buy штрих-слим 500м 60-10.20 д1н you can send an order from the site by calling
+38(056) 720-90-37, +38(095) 470-65-11, +38(067) 384-69-83,
or sending an e-mail:
vostok@pkf.dp.ua
.
Delivery
*
is from Dnipro trucking companies in all regions of Ukraine: Kyiv, Kharkiv, Lviv, Odessa, Zhitomir, Kiev, Ivano-Frankivsk, Kirovohrad, Luhansk, Lutsk, Mykolaiv, Poltava, Rivne, Sumy, Ternopil, Uzhhorod, Kherson, Khmelnytsky, Cherkasy, Chernihiv, Chernivtsi and other regions.
*
If the condition does not specify delivery and payment of delivery is not included in the price of the goods
.
By purchasing штрих-слим 500м 60-10.20 д1н from the company Vostok, you get quality service support, warranty services, information and advisory support.
Downloads
Руководство по эксплуатации
Руководство по эксплуатации весов Штрих-Слим
Strih-Slim.pdf
(pdf, 1`009 kB)