3 072 UAH
Wholesale 2 918,40 UAH
Настольные электронные весы Штрих М5Ф 15-2.5 применяются для взвешивания, фасовки и упаковки продовольственных или промышленных товаров по весу или количеству в торговле и на производстве.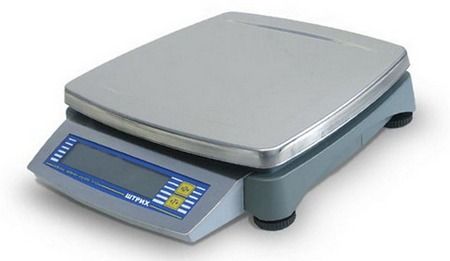 Фасовочные весы Штрих М5Ф 15-2.5 обладают компактными габаритами и позволяют взвешивать с максимальным пределом взвешивания 15 кг. Платформа весов изготовлена из нержавеющей стали и имеет размеры 293x323 мм. Наличие жидкокристаллического дисплея большого размера с янтарно-желтой подсветкой позволяет легко считывать информацию о результатах взвешивания.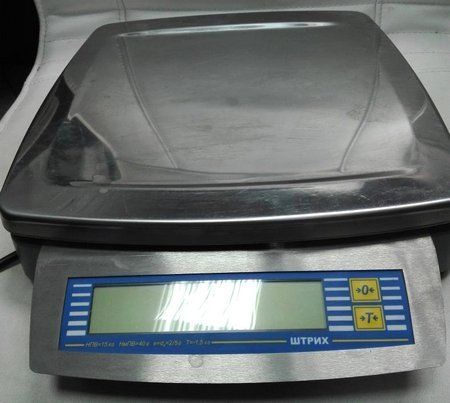 Весы имеют широкие функциональные возможности: автоматическую установку нуля, вычисление массы товара с учетом тары, многократное тарирование, систему самодиагностики, звуковую и визуальную индикацию. Клавиатура весов состоит из двух клавиш, которые выполняют различные действия в зависимости от текущего режима работы весов и от продолжительности нажатия клавиши — длинное или короткое нажатие.
Функции и особенности весов
Автоматическое отслеживание нуля.
Вычисление массы товара с учетом тары.
Многократное тарирование.
Самодиагностика.
Звуковая и визуальная индикация.
Большой контрастный ЖК индикатор с подсветкой (LCD, 6 цифр + спецсимволы).
Простая и надежная металлическая конструкция.
Платформа из нержавеющей стали.
Интерфейс RS 232 (опция).
Встроенный аккумулятор (опция).
General descriptions
Producer of equipment
Shtrih-m, Russia
Technical descriptions
MLW
15 кг
the least limit of weighing
0,04 kg
Discrete
2 г
Type of indicator
ЖКИ
Amount of indicators
1
Range of workings temperatures, °C
от 10 до 40
Size of platform
293x323 мм
Load plate material
Stainless steel
Power
220 В через адаптер
Weight,
5,8
Dimensions, mm
330x390x100
Functions
An automat setting of zero
Yes
Mass of container
Yes
Features
Diagnosis of faults
Yes
Purchase and delivery terms
Buy штрих м5ф 15-2.5 you can send an order from the site by calling
+38(056) 720-90-37, +38(095) 470-65-11, +38(067) 384-69-83,
or sending an e-mail:
vostok@pkf.dp.ua
.
Delivery
*
is from Dnipro trucking companies in all regions of Ukraine: Kyiv, Kharkiv, Lviv, Odessa, Zhitomir, Kiev, Ivano-Frankivsk, Kirovohrad, Luhansk, Lutsk, Mykolaiv, Poltava, Rivne, Sumy, Ternopil, Uzhhorod, Kherson, Khmelnytsky, Cherkasy, Chernihiv, Chernivtsi and other regions.
*
If the condition does not specify delivery and payment of delivery is not included in the price of the goods
.
By purchasing штрих м5ф 15-2.5 from the company Vostok, you get quality service support, warranty services, information and advisory support.