6 900 UAH
Wholesale 6 555,00 UAH
Торговые весы с двумя диапазонами взвешивания, жидкокристаллическим дисплеем и со встроенным аккумулятором предназначены для определения веса товара, вычисления его стоимости по введенной цене и отображения результатов на двухстороннем табло.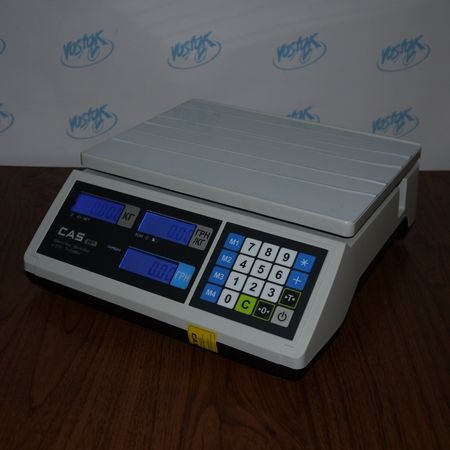 Производитель заявляет, что продолжительность работы весов CAS ER-JR-15CB от встроенного аккумулятора может достигать 180 часов (при отключенной подсветке), однако на самом деле время автономной работы может уменьшаться значительно в зависимости от заряда аккумулятора, срока эксплуатации самих весов и температуры окружающей среды. В весах используется герметичная свинцовая аккумуляторная батарея — для увеличения срока службы старайтесь не допустить, чтобы она разрядилась полностью.
Функция вычитания тары до 6 кг очень полезна при сборных покупках, позволяет значительно повысить скорость обслуживания покупателей. Кроме этого, весы ЕR JR-15CB суммируют стоимость покупки и рассчитывают сдачу.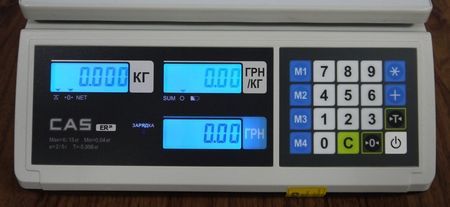 Весы CAS ЕR JR-15CB — отличный выбор для кондитерских, кулинарных, овощных отделов в продуктовых магазинах.
Можно купить весы с индикатором на стойке — CAS ЕR JR-15CBU.
General descriptions
Producer of equipment
CAS Corporation, South Korea
Technical descriptions
MLW
15
the least limit of weighing
0,04 kg
Discreteness, g
5
0,04 кг — 6кг 2г; 6 кг —15 кг 5г
Type of indicator
ЖКИ
Amount of indicators
6
3 — для продавца—Масса, Цена, Стоимость; 3 — для покупателя
Range of workings temperatures, °C
от -10 до +40
Size of platform
290 х 209
Load plate material
Stainless steel
Accumulator
Yes
Duration of work at an autonomous feed
180 hour
при условии отключенной подсветки дисплеев
Consumable power
7 Vt
Power
220В, 49~51Гц
Weight,
3,6
Dimensions, mm
304 х 324 х 112
Ports and slots of expansion
Interface
Без портов
Functions
An automat setting of zero
Yes
Mass of container
Yes
Automatic disconnecting of power
Yes
Features
Diagnosis of faults
Yes
Acquisition
Standard
Весы, РЭ
Purchase and delivery terms
Buy CAS ER-JR-15 you can send an order from the site by calling
+38(056) 720-90-37, +38(095) 470-65-11, +38(067) 384-69-83,
or sending an e-mail:
vostok@pkf.dp.ua
.
Delivery
*
is from Dnipro trucking companies in all regions of Ukraine: Kyiv, Kharkiv, Lviv, Odessa, Zhitomir, Kiev, Ivano-Frankivsk, Kirovohrad, Luhansk, Lutsk, Mykolaiv, Poltava, Rivne, Sumy, Ternopil, Uzhhorod, Kherson, Khmelnytsky, Cherkasy, Chernihiv, Chernivtsi and other regions.
*
If the condition does not specify delivery and payment of delivery is not included in the price of the goods
.
By purchasing CAS ER-JR-15 from the company Vostok, you get quality service support, warranty services, information and advisory support.