Весы сняты с производства и к заказу не доступны.
CAS PR-15 B — недорогие настольные торговые весы с наибольшим пределом взвешивания 15 кг. Они используются для взвешивания и расчета стоимости товара в торговых предприятиях, пунктах общественного питания, на рынках.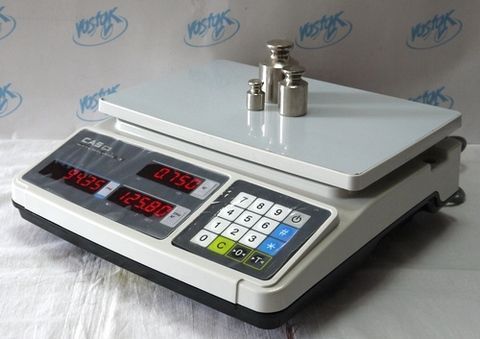 На передней части весов располагается удобная мембранная клавиатура и яркий светодиодный дисплей для продавца, на котором отображается вес, цена и стоимость взвешиваемого товара.
Платформа весов изготовлена из качественной пластмассы и имеет съемную накладку из пищевой нержавейки. На задней стороне весов размещены три светодиодных дисплея покупателя для отображения информации: вес, цена, стоимость.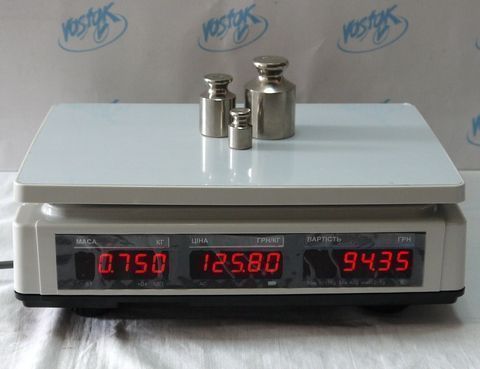 Весы торговые CAS PR-15 II B имеют два диапазона измерения для обеспечения оптимальной точности взвешивания — до 6 кг с дискретностью 2 г. А при взвешивании от 6 до 15 кг — с дискретностью 5 г. Работают весы от сети переменного тока и от встроенного аккумулятора. Автономный режим работы позволяет использовать весы для выездной торговли и торговли в помещении без электросети. На одном заряде весы смогут работать до 50 часов.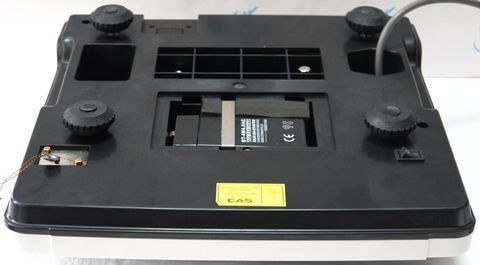 Функции и особенности весов
Автоматическая установка нуля.
Функция тарирования.
Функция суммирования стоимости покупок.
Функция расчета сдачи.
Двойной диапазон взвешивания.
Пластмассовая платформа с дополнительной съемной накладкой из нержавеющей стали.
Питание весов от сети или от встроенного аккумулятора.
Автоматическое отключение.
Автоматический переход в спящий режим.
Аккумулятор в комплекте.
Индикатор разрядки аккумулятора и спящий режим.
Можно купить модель торговых весов со стойкой — весы торговые CAS PR-15 P .
General descriptions
Producer of equipment
CAS Corporation, South Korea
Technical descriptions
MLW
15
the least limit of weighing
0,04 kg
Discreteness, g
2
5
Type of indicator
ЖКИ
Amount of indicators
6
Range of workings temperatures, °C
до 40
Size of platform
320х210 мм
Load plate material
Plastic
Accumulator
Yes
Duration of work at an autonomous feed
50 hour
Power
220 В, встроенный аккумулятор
Weight,
3,4
Dimensions, mm
334x345x112
Ports and slots of expansion
Interface
RS 232
Functions
An automat setting of zero
Yes
Mass of container
Yes
Automatic disconnecting of power
Yes
Purchase and delivery terms
Buy CAS PR-15 B you can send an order from the site by calling
+38(056) 720-90-37, +38(095) 470-65-11, +38(067) 384-69-83,
or sending an e-mail:
vostok@pkf.dp.ua
.
Delivery
*
is from Dnipro trucking companies in all regions of Ukraine: Kyiv, Kharkiv, Lviv, Odessa, Zhitomir, Kiev, Ivano-Frankivsk, Kirovohrad, Luhansk, Lutsk, Mykolaiv, Poltava, Rivne, Sumy, Ternopil, Uzhhorod, Kherson, Khmelnytsky, Cherkasy, Chernihiv, Chernivtsi and other regions.
*
If the condition does not specify delivery and payment of delivery is not included in the price of the goods
.
By purchasing CAS PR-15 B from the company Vostok, you get quality service support, warranty services, information and advisory support.