3 612,00 UAH
Wholesale 3 431,40 UAH
Торговые электронные весы ВТА-60/15-6D-АС предназначены для взвешивания и определения стоимости товара как в стационарных условиях, так и в условиях выездной торговли. Весы имеют привлекательный дизайн, обладают высокой надежностью и всеми необходимыми функциями.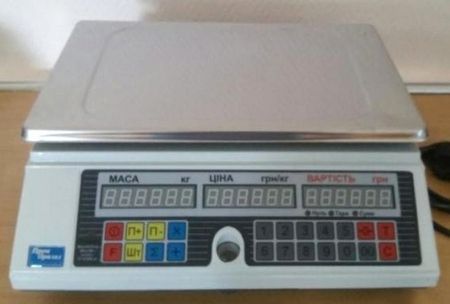 Яркий двусторонний светодиодный дисплей расположен непосредственно на корпусе весов и позволяет легко считывать результаты взвешивания в малоосвещенных помещениях. Современные весы ВТА-60/15-6D-АС кроме стандартных функций — автоматическая установка нуля и компенсация массы тары — позволяют добавлять к общей стоимости штучный товар, вычислять сумму нескольких взвешенных товаров и рассчитывать сдачу.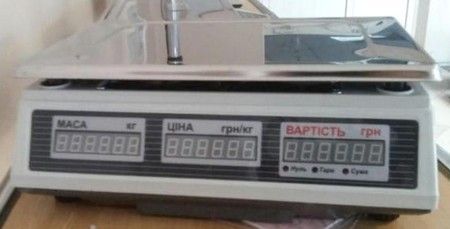 Весы ВТА-60/15-6D-АС хорошо зарекомендовали себя в составе систем автоматизации розничной торговли при подключении к кассовым аппаратам. Протокол весов позволяет передавать с кассового аппарата на индикатор весов стоимость товара за килограмм, что значительно упрощает работу продавца.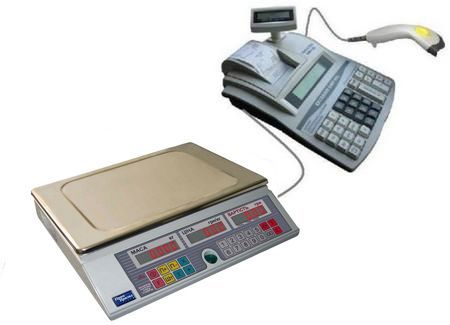 Особенности и функции весов
Двухсторонняя светодиодная индикация на корпусе весов (высота символов 14 мм).
Платформа из нержавеющей стали.
Автоматическая установка нуля.
Компенсация массы тары.
Работа в штучном режиме.
Память цен товаров.
Вычисление суммарной стоимости нескольких взвешенных товаров.
Вычисление стоимости штучного товара и добавление ее в суммарную стоимость.
Работа в условиях влияния вибрации.
Наличие интерфейса RS232.
Функция дежурного режима.
Функция двухуровневого контроля разряда автономного источника питания.
Функция автоматического выключения.
Питание весов — от сети 220 В или от встроенного аккумулятора.
General descriptions
Producer of equipment
Prompribor, Ukraine
Technical descriptions
MLW
15
the least limit of weighing
0,04 kg
Discreteness, g
1
Type of indicator
LED
Amount of indicators
3
Range of workings temperatures, °C
от 10 до 40
Size of platform
220х340 мм
Load plate material
Stainless steel
Accumulator
Yes
Duration of work at an autonomous feed
8 hour
Power
220 В или встоенный аккумулятор
Ports and slots of expansion
Interface
RS 232
Functions
An automat setting of zero
Yes
Mass of container
Yes
Automatic disconnecting of power
Yes
Purchase and delivery terms
Buy вта-60/15-6D-ас you can send an order from the site by calling
+38(056) 720-90-37, +38(095) 470-65-11, +38(067) 384-69-83,
or sending an e-mail:
vostok@pkf.dp.ua
.
Delivery
*
is from Dnipro trucking companies in all regions of Ukraine: Kyiv, Kharkiv, Lviv, Odessa, Zhitomir, Kiev, Ivano-Frankivsk, Kirovohrad, Luhansk, Lutsk, Mykolaiv, Poltava, Rivne, Sumy, Ternopil, Uzhhorod, Kherson, Khmelnytsky, Cherkasy, Chernihiv, Chernivtsi and other regions.
*
If the condition does not specify delivery and payment of delivery is not included in the price of the goods
.
By purchasing вта-60/15-6D-ас from the company Vostok, you get quality service support, warranty services, information and advisory support.