ENG: Весы электронные торговые ВТНЕ/1-30Т1 «Яблочко»
Сняты с производства.
Весы торговые ВТНЕ/1-30Т1 «Яблочко» предназначены для взвешивания товаров на предприятиях розничной торговли и на рынках. Весы характеризуются простотой использования, высоким качеством и точностью.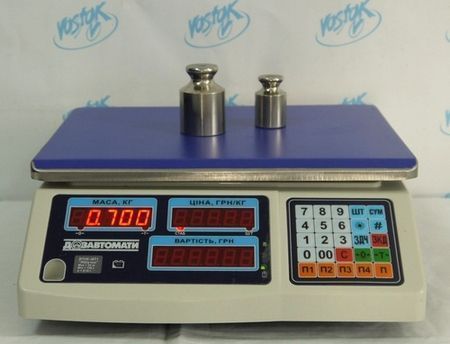 Весы ВТНЕ/1-30Т1 «Яблочко» имеют двухстороннюю светодиодную индикацию — для продавца и покупателя, с тремя показателями: масса, цена и стоимость. 10 ячеек памяти позволяют сохранять в памяти весов цены для наиболее востребованных товаров.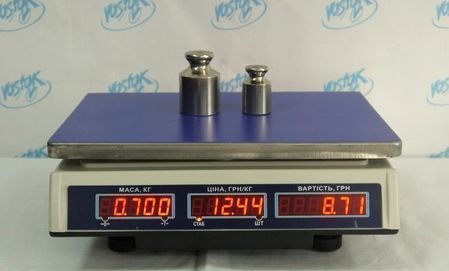 Функции и особенности весов
Автоматическая установка нуля.
Взвешивание с выборкой массы тары.
Взвешивание с установкой цены и определением стоимости товара.
Суммирование стоимости всех покупок, в том числе и штучного товара.
Вычисление суммы сдачи покупателю.
Запоминание цены 10 товаров.
Двухсторонняя светодиодная индикация.
Подсветка индикаторов со стороны покупателя и продавца.
Встроенный аккумулятор.
Двухдиапазонный режим взвешивания (5/10 г).
Сигнализация о выбранном режиме работы весов и разрядке аккумулятора.
Можно купить весы электронные торговые ВТНЕ/1 «Яблочко» с наибольшим пределом взвешивания 15 кг — весы торговые ВТНЕ/1-15Т1 «Яблочко».
General descriptions
Producer of equipment
Kirovograd Plant vesodoziruyuschego Equipment Ltd. Ukraine
Technical descriptions
MLW
30
MLW (most limit of weighing), kg
30
the least limit of weighing
0,1 kg
Discreteness, g
5
10
Type of indicator
LED
Amount of indicators
6
Range of workings temperatures, °C
от -12 до +40
Accumulator
Yes
Duration of work at an autonomous feed
20 hour
Power
220 В
Weight,
4,3
Dimensions, mm
350x320x130
Ports and slots of expansion
Interface
Без портов
Functions
An automat setting of zero
Yes
Mass of container
Yes
Purchase and delivery terms
Buy ENG: весы электронные торговые втне/1-30т1 «яблочко» you can send an order from the site by calling
+38(056) 720-90-37, +38(095) 470-65-11, +38(067) 384-69-83,
or sending an e-mail:
vostok@pkf.dp.ua
.
Delivery
*
is from Dnipro trucking companies in all regions of Ukraine: Kyiv, Kharkiv, Lviv, Odessa, Zhitomir, Kiev, Ivano-Frankivsk, Kirovohrad, Luhansk, Lutsk, Mykolaiv, Poltava, Rivne, Sumy, Ternopil, Uzhhorod, Kherson, Khmelnytsky, Cherkasy, Chernihiv, Chernivtsi and other regions.
*
If the condition does not specify delivery and payment of delivery is not included in the price of the goods
.
By purchasing ENG: весы электронные торговые втне/1-30т1 «яблочко» from the company Vostok, you get quality service support, warranty services, information and advisory support.