Pallet truck scale CAS CPS-1
Hydraulic cart-scale CPS-1 produced by CAS for weighing pallets up to 1 t. Hand weighing cart-scale for static weighing transported on the Euro-pallets.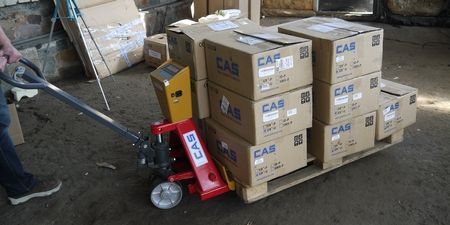 Functions of CPS-1:
Protection from overloads
Level;
Double front wheels
Lifting height – 180 mm
Calibration
Auto zeroing
Accumulation and summing up of weightings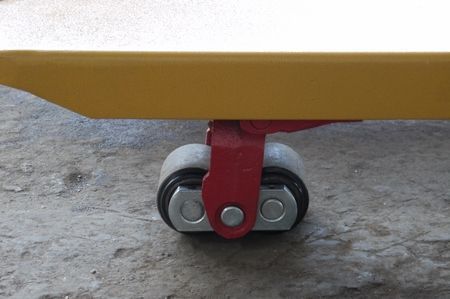 Options: embedded printer, wireless connection with computer or remote display.
Pallet truck scale CAS CPS-1
General descriptions
Producer of equipment
CAS Corporation, South Korea
Technical descriptions
MLW
1 т
Discreteness, g
500
Amount of indicators
1
Range of workings temperatures, °C
от -10 до +40
Industrial class of defence
IP-67
Size of platform
1072 х 580 х 85
Load plate material
Steel is painted
Weight,
150
Functions
An automat setting of zero
Yes
Mass of container
Yes
Features
Diagnosis of faults
Yes
Purchase and delivery terms
Buy Pallet truck scale CAS CPS-1 you can send an order from the site by calling
+38(056) 720-90-37, +38(095) 470-65-11, +38(067) 384-69-83,
or sending an e-mail:
vostok@pkf.dp.ua
.
Delivery
*
is from Dnipro trucking companies in all regions of Ukraine: Kyiv, Kharkiv, Lviv, Odessa, Zhitomir, Kiev, Ivano-Frankivsk, Kirovohrad, Luhansk, Lutsk, Mykolaiv, Poltava, Rivne, Sumy, Ternopil, Uzhhorod, Kherson, Khmelnytsky, Cherkasy, Chernihiv, Chernivtsi and other regions.
*
If the condition does not specify delivery and payment of delivery is not included in the price of the goods
.
By purchasing Pallet truck scale CAS CPS-1 from the company Vostok, you get quality service support, warranty services, information and advisory support.