ENG: Весы Axis 4BDU1000Р-ВШ Бюджет широкими вилами
35 496 UAH
Wholesale 34 431,12 UAH
Весы-рокла Axis 4BDU1000Р-ВШ Бюджет с широкими вилами – это возможность быстро и эффективно обрабатывать широкие поддоны нестандартных размеров, применение которых порой обусловлено спецификой товара. Такие паллеты являются очень необходимыми на некоторых складах. Рокла отличаются исключительной надежностью, удобством, стабильностью показаний и простотой в использовании.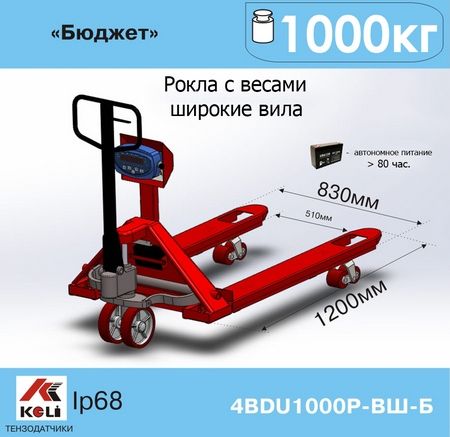 Рокла с весами популярна на складах, где товар учитывается по весу. Весы-рокла совмещают в себе гидравлическую тележку для перемещения грузов и весоизмерительное устройство. Позволяют не только перемещать грузы, но и взвешивать их, что существенно экономит время на проведении транспортных, погрузочных и разгрузочных работах, а также учетных операциях.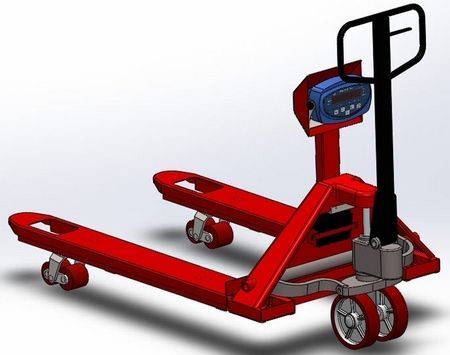 Весы-рокла з широкими вилами (внутренний размер между вилами составляет 510 мм) состоят из финской роклы Rocla (длина вил 1200 мм), четырех тензометрических датчиков Keli с классом защиты IP68, коммутаторной коробки и весового терминала AXIS-01 (светодиодный дисплей, высота цифр 18 мм, IP54).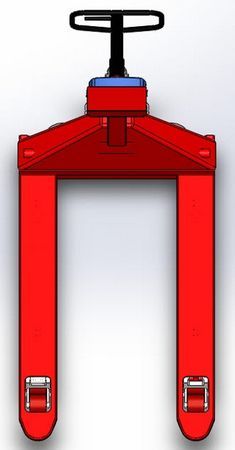 Функции весов
Функция автоматической установки нуля.
Функция тары на весь диапазон взвешивания.
Функция ввода «постоянного» значения тары.
Функция суммирования — «TOTAL».
Функция временного улучшения дискретности — кнопка «HR».
Функция работы с компьютером (RS232C) для автоматизации учета результатов взвешивания.
General descriptions
Producer of equipment
AXIS, Poland
Technical descriptions
MLW
1 т
the least limit of weighing
10 kg
Discreteness, g
500
Type of indicator
ЖКИ
Amount of indicators
1
Industrial class of defence
IP-68
Size of platform
830×1200
Accumulator
Yes
Duration of work at an autonomous feed
30 hour
Functions
An automat setting of zero
Yes
Mass of container
Yes
Purchase and delivery terms
Buy ENG: весы Axis 4BDU1000р-вш бюджет широкими вилами you can send an order from the site by calling
+38(056) 720-90-37, +38(095) 470-65-11, +38(067) 384-69-83,
or sending an e-mail:
vostok@pkf.dp.ua
.
Delivery
*
is from Dnipro trucking companies in all regions of Ukraine: Kyiv, Kharkiv, Lviv, Odessa, Zhitomir, Kiev, Ivano-Frankivsk, Kirovohrad, Luhansk, Lutsk, Mykolaiv, Poltava, Rivne, Sumy, Ternopil, Uzhhorod, Kherson, Khmelnytsky, Cherkasy, Chernihiv, Chernivtsi and other regions.
*
If the condition does not specify delivery and payment of delivery is not included in the price of the goods
.
By purchasing ENG: весы Axis 4BDU1000р-вш бюджет широкими вилами from the company Vostok, you get quality service support, warranty services, information and advisory support.