ENG: Термолента чековая 80 мм х 80 м
1 рулон
42 UAH
Wholesale 40,74 UAH
Чековая термолента 80х80 используется в чековых принтерах в торговле и сфере услуг для печати квитанций или чеков.
Чековая лента состоит из одного слоя бумаги с нанесенным на него термоактивным покрытием. Печать на ней осуществляется за счет нагревательных элементов печатающей головки, на месте нагрева цвет меняется, таким образом появляются текст или изображение. Лента хорошо впитывает краску и при мгновенном касании она не размазывается. Отпечаток на чековой ленте сохраняется в течение продолжительного времени.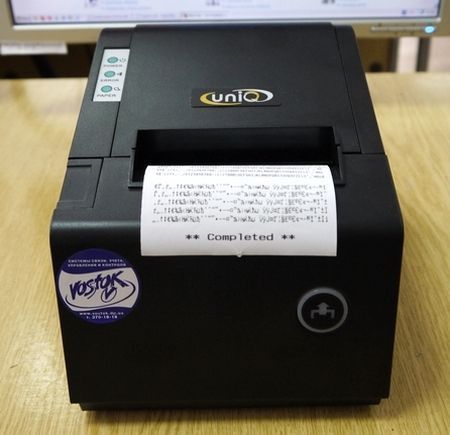 На последних пяти метрах ленты нанесена полоса красного цвета для сигнала кассиру о том, что вскоре она закончится в аппарате и необходимо заменить рулон. Нужно помнить, что при прямом воздействии тепла чековая лента меняет цвет и теряет свой товарный вид. Поэтому хранить ее рекомендуется в прохладном помещении. Втулка используется стандартного диаметра — 12 мм.
Цена указана при покупке одного рулона ленты.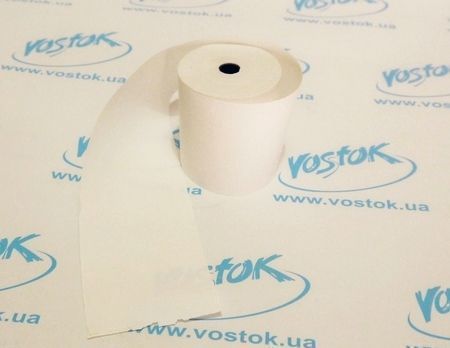 General descriptions
Producer of equipment
VOSTOK, Co., Ltd
Technical descriptions
ENG: Ширина рулона
80 mm
ENG: Диаметр рулона
75 mm
ENG: Длинна намотки
80 m
ENG: Диаметр втулки (вн.)
12 mm
Purchase and delivery terms
Buy ENG: термолента чековая 80 мм х 80 м you can send an order from the site by calling
+38(056) 720-90-37, +38(095) 470-65-11, +38(067) 384-69-83,
or sending an e-mail:
vostok@pkf.dp.ua
.
Delivery
*
is from Dnipro trucking companies in all regions of Ukraine: Kyiv, Kharkiv, Lviv, Odessa, Zhitomir, Kiev, Ivano-Frankivsk, Kirovohrad, Luhansk, Lutsk, Mykolaiv, Poltava, Rivne, Sumy, Ternopil, Uzhhorod, Kherson, Khmelnytsky, Cherkasy, Chernihiv, Chernivtsi and other regions.
*
If the condition does not specify delivery and payment of delivery is not included in the price of the goods
.
By purchasing ENG: термолента чековая 80 мм х 80 м from the company Vostok, you get quality service support, warranty services, information and advisory support.