2 632 UAH
Wholesale 2 553,00 UAH
Драйвер MS-1C-MK3000-DRIVER — универсальное решение для предоставления дополнительных информационных услуг покупателям и построения систем самообслуживания с помощью информационных киосков в розничных магазинах и мелкооптовых складах.

Драйвер микрокиоска обеспечивает мгновенное подключение к торговой базе 1С, получение цен, описаний и остатков прямо из базы 1С:Предприятие без выгрузки и синхронизации, отображение картинок товаров. Можно демонстрировать программы лояльности, а во время простоя киоска проигрывать видео или рекламу для привлечения покупателей.
Сервер драйвера устанавливается на выделенный компьютер, считающийся сервером. Вместе с сервером ставится специальная промежуточная конфигурация 1С «Клеверенс: Драйвер 1С Киоск (управление)», обеспечивающая работу микрокиоска.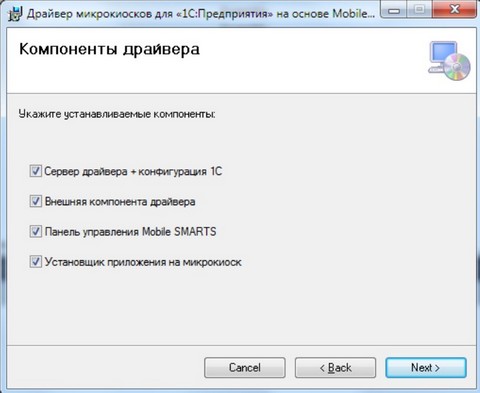 Работа драйвера основана на «Mobile SMARTS», что позволяет использовать дополнительную функциональность. Например, изменение внешнего вида, поддержка шаблонов штрих-кодов или разработка совершенно новых операций с использованием микрокиосков. Кроме того, драйвер может быть легко объединен с другими продуктами на базе этой платформы, например, с драйверами терминалов сбора данных для «1С:Предприятия».
В комплект драйвера входит:
программа для микрокиоска (клиент Mobile SMARTS);
конфигурация Mobile SMARTS для микрокиоска, реализующая получение информации о товаре по штрих-коду;
конфигуратор программы микрокиоска (панель управления Mobile SMARTS);
готовый код для подключения к программе «1С:Управление торговлей».
General descriptions
Producer of equipment
Kleverens Soft
Code
MS-1C-MK3000-DRIVER
Purchase and delivery terms
Buy MS-1C-MK3000-DRIVER you can send an order from the site by calling
+38(056) 720-90-37, +38(095) 470-65-11, +38(067) 384-69-83,
or sending an e-mail:
vostok@pkf.dp.ua
.
Delivery
*
is from Dnipro trucking companies in all regions of Ukraine: Kyiv, Kharkiv, Lviv, Odessa, Zhitomir, Kiev, Ivano-Frankivsk, Kirovohrad, Luhansk, Lutsk, Mykolaiv, Poltava, Rivne, Sumy, Ternopil, Uzhhorod, Kherson, Khmelnytsky, Cherkasy, Chernihiv, Chernivtsi and other regions.
*
If the condition does not specify delivery and payment of delivery is not included in the price of the goods
.
By purchasing MS-1C-MK3000-DRIVER from the company Vostok, you get quality service support, warranty services, information and advisory support.