Touch monitor ELO ET1515L
20 280 UAH
Wholesale 19 871,00 UAH
LCD monitor ET1515 – touch monitor of entry level. It can be used as desktop or wall mounted monitor. The working area of monitor is protected from dust and dirt.
ELO ET1515L — is an excellent choice for retail stores (trade) and services.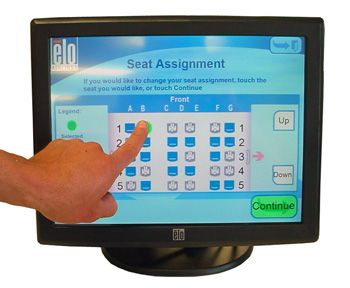 Technical characteristics:
display – active TFT matrix;
touch interface - USB, Dual serial/USB;
number of touches – One touch;
display size – 15 inches;
resolution - 1024 x 768 ріх, 60 Hz;
sides correlation – 4:3;
response time – 14.2 sec;
viewing angle – down 130°, across 120°;
contrast – 500:1;
number of colors – 16.2 ml.
General descriptions
Producer of equipment
Elo Touch Solutions
a type
POS-monitor
Technical descriptions
ENG: Монитор
TFT
ENG: Размер дисплея
15"
Power consumption
30 watts
Power
100-240 В, 50-60 Гц, внутренний сетевой адаптер
Weight,
4,8
с подставкой
Dimensions, mm
350х310х175
Purchase and delivery terms
Buy Touch monitor ELO ET1515L you can send an order from the site by calling
+38(056) 720-90-37, +38(095) 470-65-11, +38(067) 384-69-83,
or sending an e-mail:
vostok@pkf.dp.ua
.
Delivery
*
is from Dnipro trucking companies in all regions of Ukraine: Kyiv, Kharkiv, Lviv, Odessa, Zhitomir, Kiev, Ivano-Frankivsk, Kirovohrad, Luhansk, Lutsk, Mykolaiv, Poltava, Rivne, Sumy, Ternopil, Uzhhorod, Kherson, Khmelnytsky, Cherkasy, Chernihiv, Chernivtsi and other regions.
*
If the condition does not specify delivery and payment of delivery is not included in the price of the goods
.
By purchasing Touch monitor ELO ET1515L from the company Vostok, you get quality service support, warranty services, information and advisory support.