Touch monitor ELO ET1519L
15 470 UAH
Wholesale 15 005,00 UAH
ELO ET1519L — touch monitor for POS-systems. It can be used as desktop or wall-mounted monitor.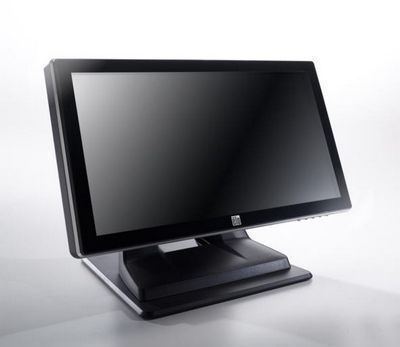 ELO ET1519L monitor peculiarities
High brightness, improved matrix contrast.
Better viewing angles.
Steady monitor construction.
Integral dynamics 2x2 W.
Multilangage user menu.
There are mounting holes in the monitor.
The monitor can be connected with he help of USB and RS 232 plugs.
Technical characteristics:
display – active TFT matrix;
touch interface – USB, Dual serial/USB;
number of touches – One touch;
display size – 15 inches;
resolution - 1366 x 768 ріх, 60 Hz;
sides correlation – 16:9;
working display area – 344х194 mm;
response time – 16.7 sec;
viewing angle – down 90°, across 65°;
contrast – 500:1;
number of colors – 16.7 ml;
input video format – Video Analog VGA on Female DE-15 connector; Input Video Horizontal Sync frequency range;
input video signal – Mini D-Sub 15-Pin VGA type.
General descriptions
Producer of equipment
Elo Touch Solutions
a type
POS-monitor
Technical descriptions
ENG: Монитор
TFT
ENG: Размер дисплея
15"
Power consumption
15,6 watts
Power
100-240 В, 50-60 Гц, внутренний сетевой адаптер
Weight,
5,14
с подставкой
Dimensions, mm
383 х 277 х 213
Purchase and delivery terms
Buy Touch monitor ELO ET1519L you can send an order from the site by calling
+38(056) 720-90-37, +38(095) 470-65-11, +38(067) 384-69-83,
or sending an e-mail:
vostok@pkf.dp.ua
.
Delivery
*
is from Dnipro trucking companies in all regions of Ukraine: Kyiv, Kharkiv, Lviv, Odessa, Zhitomir, Kiev, Ivano-Frankivsk, Kirovohrad, Luhansk, Lutsk, Mykolaiv, Poltava, Rivne, Sumy, Ternopil, Uzhhorod, Kherson, Khmelnytsky, Cherkasy, Chernihiv, Chernivtsi and other regions.
*
If the condition does not specify delivery and payment of delivery is not included in the price of the goods
.
By purchasing Touch monitor ELO ET1519L from the company Vostok, you get quality service support, warranty services, information and advisory support.