Terminal Motorola VC 5090 MA0QM0GH7WR
Terminal VC5090 is useful in retail trade sphere, in production, in hotel business, in medicine and transport spheres.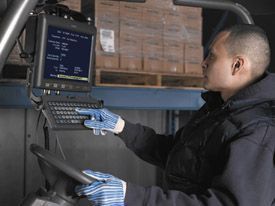 High efficiency and wide range of functions allows maintaining specialized user applications designed on the browser basis and specialized user applications Windows CE for mobile systems and also up-to-date terminal emulation applications.
Processor Intel XScale PXA270 624 MHz.
Operational system Microsoft Windows CE 5.0 Professional.
Main memory (RAM/ROM) 128 SDRAM/192MB Flash (RoHS-compatible).
Card memory expansion SD.
Terminal emulation Wavelink 3270, 5250, VT100, VT220 previously downloaded and licensed
Software Citrix client, Windows CE Remote Desktop.
Operating temperature from -20 up to +40°C.
Scanner type – laser.
This model of Motorola data terminal is produced in two variants – full-screen and half-screen. Full-screen display diagonal is 12,1 inches, half-screen. Full-screen display is 10,5 inches diagonal. This stationery terminal can be used in extreme conditions.
General descriptions
Producer of equipment
Zebra Technologies, USA
Technical descriptions
Barcode reader
2D
Dust/Water-splash proof
IP66
Scanner
Imager
Weight,
6,85
Dimensions, mm
269x309x114
Purchase and delivery terms
Buy Terminal Motorola VC 5090 MA0QM0GH7WR you can send an order from the site by calling
+38(056) 720-90-37, +38(095) 470-65-11, +38(067) 384-69-83,
or sending an e-mail:
vostok@pkf.dp.ua
.
Delivery
*
is from Dnipro trucking companies in all regions of Ukraine: Kyiv, Kharkiv, Lviv, Odessa, Zhitomir, Kiev, Ivano-Frankivsk, Kirovohrad, Luhansk, Lutsk, Mykolaiv, Poltava, Rivne, Sumy, Ternopil, Uzhhorod, Kherson, Khmelnytsky, Cherkasy, Chernihiv, Chernivtsi and other regions.
*
If the condition does not specify delivery and payment of delivery is not included in the price of the goods
.
By purchasing Terminal Motorola VC 5090 MA0QM0GH7WR from the company Vostok, you get quality service support, warranty services, information and advisory support.