Desktop thermal transfer label printer Godex G500
10 338 UAH
Wholesale 10 027,86 UAH
Desktop thermal transfer label printer Godex G500 is for thermal and thermal transfer printing on labels, paper, polypropylene textile, nylon and other carriers.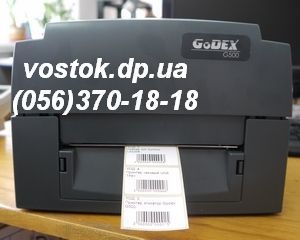 Special label edge sensor construction is used in G500 printer, it has two light emitting diode instead of one.
Printing on different materials is possible. Three software programming languages (EZPL, GEPL, EZPL) are in the printer memory with automated switch option.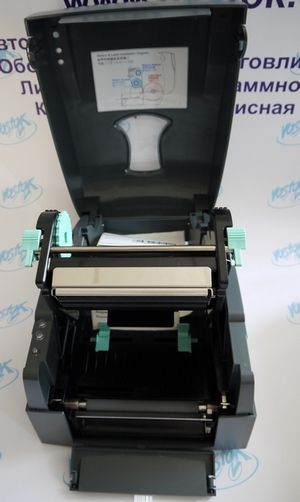 The case of G500 is made from shockproof plastic. The label dimension can be set in the print mode or automatic sensor mode can determine the dimensions.
General descriptions
Producer of equipment
Godex
Technical descriptions
Type of printer
Desktop label printer
Print method
termotransfernaja
Resolution
203 dpi
Print speed, mm/sec.
127
Maximum print width, mm
104
Minimum roll width
25
Print length
от 4 до 1727 mm
Maximum roll diameter
127 mm
Operating temperature
от 5 до 40 °С
Storage temperatures
от -20 до +50 °С
Weight,
2,73
Dimensions, mm
285x171x226
Ports and slots of expansion
Interface
Internal Ethernet
USB2.0, RS232
Additional information
Ribbons
Wax, Wax/Resin, Resin максимальной длиной 300 м
Макс.диаметр рулона - 68 мм
Types
Растровые шрифты: 6, 8, 10, 12, 14, 18, 24, 30, 16x26, OCR A&B с возможностью поворота на 90°, 180°, 270°, с 8-микратно изменяемыми по горизонтали и вертикали размерами. Масштабируемые штрифты с возможностью поворота на 90°, 180°, 270°.
Bar codes
1D штрих коды: Code39, Code93, Code128 (группы A,B,C), UCC/EAN-128 K-Mart, UCC/EAN128, UPC A/E (c дополнениями 2 из 5), I 2 из 5, I 2 из 5 с Shipping Bearer Bars, EAN 8/13 (с дополн. 2 из 5), Codabar, Post NET, EAN128, DUN14, HIBC, MSI
2D штрих коды: PDF417, Datamatrix code, MaxiCode, QR code, Micro PDF417, MicroQR code, Aztec code
Purchase and delivery terms
Buy Desktop thermal transfer label printer Godex G500 you can send an order from the site by calling
+38(056) 720-90-37, +38(095) 470-65-11, +38(067) 384-69-83,
or sending an e-mail:
vostok@pkf.dp.ua
.
Delivery
*
is from Dnipro trucking companies in all regions of Ukraine: Kyiv, Kharkiv, Lviv, Odessa, Zhitomir, Kiev, Ivano-Frankivsk, Kirovohrad, Luhansk, Lutsk, Mykolaiv, Poltava, Rivne, Sumy, Ternopil, Uzhhorod, Kherson, Khmelnytsky, Cherkasy, Chernihiv, Chernivtsi and other regions.
*
If the condition does not specify delivery and payment of delivery is not included in the price of the goods
.
By purchasing Desktop thermal transfer label printer Godex G500 from the company Vostok, you get quality service support, warranty services, information and advisory support.
People often buy with this product