ENG: Термотрансферный принтер этикеток Godex RT-730
20 832,00 UAH
Wholesale 20 207,04 UAH
Godex RT-730 — термотрансферный принтер с разрешением печати 300 dpi и шириной печати до 105.7 мм. Принтер позволяет печатать штрих-коды, текст и графические объекты на бумажных, полипропиленовых, тканевых и других носителях с помощью риббона. Для печати используется красящая лента длиной 300 метров, что позволяет сократить затраты на расходные материалы. Принтер Godex RT-730 отлично подойдет для печати ювелирных бирок.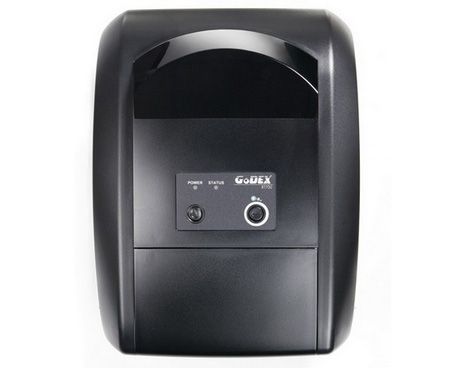 Принтер этикеток построен на быстром 32-разрядном процессоре ARM7 (166мГц) и имеет повышенный объем оперативной памяти (16 Мб) и флешь памяти (8 Мб), что обеспечивает быструю обработку данных и позволяет хранить в памяти большое количество шрифтов, шаблонов этикетки и графики.
Принтер имеет два датчика края этикетки — «на отражение» и «на просвет». Применение этих датчиков позволяет использовать этикетки с любой плотностью подложки и этикетки с «черной меткой». Положение датчика можно регулировать, что особенно важно для работы с этикетками неправильной формы. Три встроенных во флеш-память языка программирования — EZPL, GEPL, EZPL с функцией автоматического переключения, позволяют использовать любое ПО, предназначенное для принтеров Zebra/Eltron.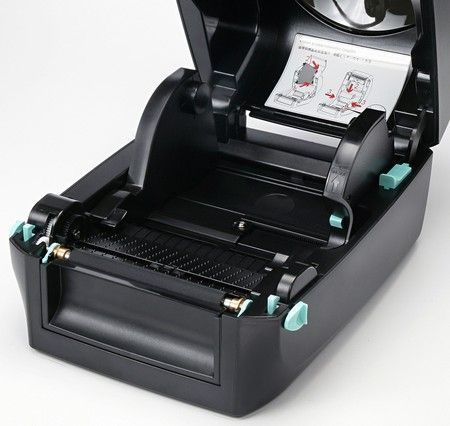 Godex RT-730 легко подключается к программе 1С любых версий. Печать из программы 1С осуществляется с помощью стандартного Windows драйвера. В стандартной комплектации принтер имеет три интерфейса — USB2.0, RS232 и Ethernet. Модуль Ethernet обеспечивает все функциональные возможности классического принт-сервера. Утилита Godex Net Setting устанавливается на компьютер и позволяет осуществлять дистанционное управления и настройку принт-сервера.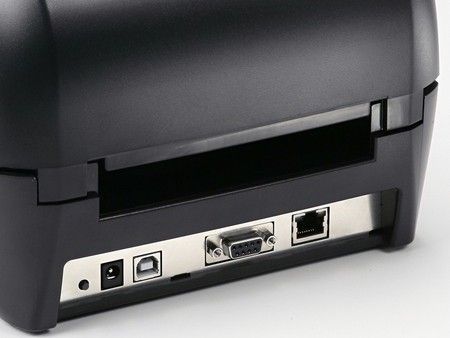 General descriptions
Producer of equipment
Godex
Technical descriptions
Type of printer
Desktop label printer
Print method
termotransfernaja
Recommended loading, labels/days
5000
Resolution
300 dpi
Print speed, mm/sec.
102
Print width
104
Print length
от 4 до 762 mm
Maximum roll diameter
127 mm
Operating temperature
от 5 до 40 °С
Power
220 В
Weight,
2,72
Dimensions, mm
280 х186 х 210
Ports and slots of expansion
Interface
Internal Ethernet, RS-232, USB
Additional information
Ribbons
Максимальная намотка красящей ленты: 300 м
Тип намотки красящей ленты: OUT внешняя
Types
Растровые шрифты: 6, 8, 10, 12, 14, 18, 24, 30, 16x26, OCR A&B с возможностью поворота на 90°, 180°, 270°, с 8-микратно изменяемыми по горизонтали и вертикали размерами. Масштабируемые штрифты с возможностью поворота на 90°, 180°, 270°.
Bar codes
1D: Code39, Code93, Code128 (группы A,B,C), UCC/EAN128, K-Mart, UCC/EAN128, UPC A/E (c дополнениями 2 из 5), I 2 из 5, I 2 из 5 с Shipping Bearer Bars, EAN 8/13 (с дополн. 2 из 5), Codabar, PostNET, EAN128, DUN14, HIBC, MSI (1 Mod 10).
2D: PDF417, Datamatrix code, MaxiCode, QR code, MicroQR code, Micro PDF417, Aztec
Purchase and delivery terms
Buy ENG: термотрансферный принтер этикеток Godex RT-730 you can send an order from the site by calling
+38(056) 720-90-37, +38(095) 470-65-11, +38(067) 384-69-83,
or sending an e-mail:
vostok@pkf.dp.ua
.
Delivery
*
is from Dnipro trucking companies in all regions of Ukraine: Kyiv, Kharkiv, Lviv, Odessa, Zhitomir, Kiev, Ivano-Frankivsk, Kirovohrad, Luhansk, Lutsk, Mykolaiv, Poltava, Rivne, Sumy, Ternopil, Uzhhorod, Kherson, Khmelnytsky, Cherkasy, Chernihiv, Chernivtsi and other regions.
*
If the condition does not specify delivery and payment of delivery is not included in the price of the goods
.
By purchasing ENG: термотрансферный принтер этикеток Godex RT-730 from the company Vostok, you get quality service support, warranty services, information and advisory support.