ENG: Стабилизатор напряжения Phantom VS-724
14 532 UAH
Wholesale 13 805,40 UAH
Стабилизатор напряжения Phantom VS-724 класса «ЭЛИТ» построен по автотрансформаторной схеме. В качестве переключающих элементов использованы высококачественные тиристорные силовые модули, которые управляются микроконтроллером с использованием фазо-импульсной модуляции (ФИМ). Таким образом, достигается плавная регулировка выходного напряжения и минимальные отклонения от значения 220 В.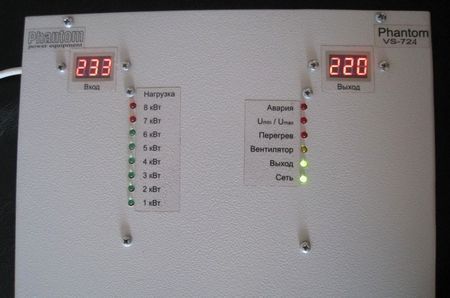 Шесть видов защиты
Электронная защита от перегрева силовых узлов стабилизатора.
Защита от превышения тока автоматических выключателей.
Электронная защита от увеличения напряжения на выходе свыше 250 В.
Электронная защита от увеличения напряжения на входе выше порога Umax.
Электронная защита от уменьшения напряжения на входе ниже порога Umin.
Аварийная защита.
Технические характеристики
Тип стабилизатора — симисторный (тиристорный).
Количество фаз — одна.
диапазон входного напряжения:

115-220 В;
135-240 В;
160-265 В;
185-290 В.

Напряжение защитного отключения:

85-250 В;
100-260 В;
135-260 В;
135-315 В.

Максимальное отклонение от номинального напряжения — <1%, 2 В.
Рабочий диапазон входного напряжения — 60-400 В.
Номинальная мощность при Uвх≥185В — 10 кВт.
Максимальная мощность при Uвх≥160В — 10 кВт.
Максимальное превышение номинальной мощности в течении 2 минут при Uвх>160 В — 20%.
Максимальное превышение номинальной мощности в течении 5 секунд при Uвх>160 В — 50%.
Дополнительные функции
FLASH-память событий (срабатывания защит, выходов за пределы диапазона стабилизации, перегрузок, тепловой защиты).
Автоматический "bypass".
Индикация входного и выходного напряжения, полезной мощности.
Индикация режимов работы и срабатывания защит.
Возможность настенного и напольного монтажа.
Многоуровневая система охлаждения.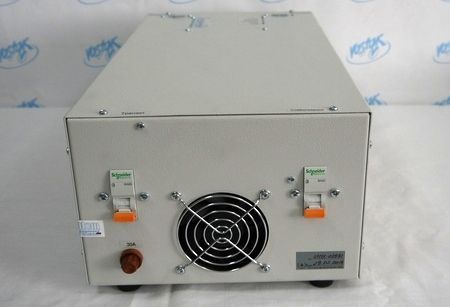 General descriptions
Producer of equipment
Phantom, Ukraine
Type of stabilizator
однофазный
Technical descriptions
Power
10 кВт
Stabilizing range
от 115 до 290 V
ENG: Шаг регулирования, В
2
Weight,
23,5
Dimensions, mm
430×235×170
Functions
Protecting from the promoted tension
Yes
ENG: Защита от перегрузки и коротких замыканий
Yes
ENG: Тепловая защита
Yes
Purchase and delivery terms
Buy ENG: стабилизатор напряжения Phantom VS-724 you can send an order from the site by calling
+38(056) 720-90-37, +38(095) 470-65-11, +38(067) 384-69-83,
or sending an e-mail:
vostok@pkf.dp.ua
.
Delivery
*
is from Dnipro trucking companies in all regions of Ukraine: Kyiv, Kharkiv, Lviv, Odessa, Zhitomir, Kiev, Ivano-Frankivsk, Kirovohrad, Luhansk, Lutsk, Mykolaiv, Poltava, Rivne, Sumy, Ternopil, Uzhhorod, Kherson, Khmelnytsky, Cherkasy, Chernihiv, Chernivtsi and other regions.
*
If the condition does not specify delivery and payment of delivery is not included in the price of the goods
.
By purchasing ENG: стабилизатор напряжения Phantom VS-724 from the company Vostok, you get quality service support, warranty services, information and advisory support.