17 502 UAH
Wholesale 16 626,90 UAH
Стабилизатор напряжения PHANTOM VNTP-844 10кВт имеет номинальную мощность 10 кВт и является полностью автоматическим устройством регулирования напряжения, построенным на принципе вольтодобавки. В качестве переключающих элементов использованы тиристорные силовые модули. Количество ступеней регулирования – 25, а шаг регулировки составляет всего 5 В. Благодаря такому количеству ступеней регулирования, выходное напряжение на стабилизаторе колеблется в диапазоне 2%, что является достаточно точным значением.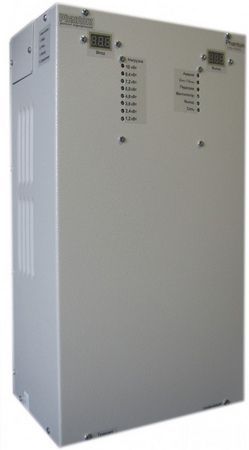 Стабилизатор имеет различные виды защиты: защита от повышенного напряжения, от перегрева, от короткого замыкания, от превышения мощности (+20%), от повышенного напряжения на выходе нормализатора.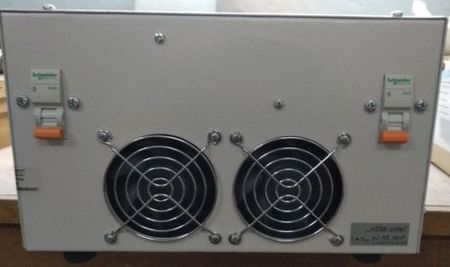 Технические характеристики стабилизатора
Диапазон стабилизации — 136-270 В.
Максимальное отклонение от номинального напряжения — 5 В.
Максимальное отклонение от номинального напряжения — 2%.
Рабочий диапазон входных напряжений —60-400 В.
Номинальная мощность — 10000 Вт.
Максимальная мощность при Uвх больше 160В — 10000 Вт.
Максимальная мощность при Uвх меньше 130В — 8000 Вт.
Максимальное превышение номинальной мощности в течении 2 мин при Uвх больше 160В — 20%.
Максимальное превышение номинальной мощности в течении 5 сек при Uвх больше 160В — 50%
Минимальное напряжение отсечки — 90 В.
Максимальное напряжение отсечки — 290 В.
Силовой элемент — сборка тиристоров.
General descriptions
Producer of equipment
Phantom, Ukraine
Type of stabilizator
однофазный
Technical descriptions
Power
10 кВт
Stabilizing range
от 136 до 270 V
Amount of the adjusting stages
25
ENG: Шаг регулирования, В
5
Time of reaction
20 ms
Power
сеть 220 В
Weight,
23
Dimensions, mm
430х235х170
Functions
Protecting from the promoted tension
Yes
ENG: Защита от перегрузки и коротких замыканий
Yes
ENG: Тепловая защита
Yes
Purchase and delivery terms
Buy ENG: PHANTOM 10 квт you can send an order from the site by calling
+38(056) 720-90-37, +38(095) 470-65-11, +38(067) 384-69-83,
or sending an e-mail:
vostok@pkf.dp.ua
.
Delivery
*
is from Dnipro trucking companies in all regions of Ukraine: Kyiv, Kharkiv, Lviv, Odessa, Zhitomir, Kiev, Ivano-Frankivsk, Kirovohrad, Luhansk, Lutsk, Mykolaiv, Poltava, Rivne, Sumy, Ternopil, Uzhhorod, Kherson, Khmelnytsky, Cherkasy, Chernihiv, Chernivtsi and other regions.
*
If the condition does not specify delivery and payment of delivery is not included in the price of the goods
.
By purchasing ENG: PHANTOM 10 квт from the company Vostok, you get quality service support, warranty services, information and advisory support.