11 670,00 UAH
Wholesale 10 503,00 UAH
Самоклеящийся маркер BRADY THTFP-01-425 предназначен для маркировки оптического кабеля, любого вида коаксиального и электрического кабеля диаметром до 4 мм.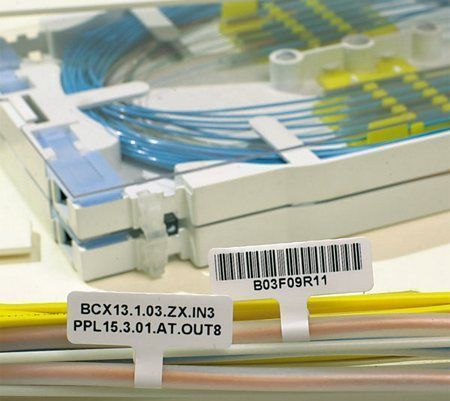 Данный маркер используется для вертикального расположения кабеля. Печать производиться на 2-х сторонах маркера на принтере этикеток Brady BBP11 с помощью риббона Brady R-4300.
BRADY THTFP-01-425 применяется в оптических кроссах, в стойках и шкафах коммутации СКС сетей, при одновременном решении задач по идентификации кабеля и создания системы учета с применением штрих-кода.
Ширина маркера — 30 мм.
Длина маркера — 2 х 10 мм.
Высота поля печати — 2 х 10 мм.
Количество маркеров в ряду — 1.
Материал — белый матовый полиолефин В-425.
Температура эксплуатации — от -40ºС до +90ºС.
Отличная устойчивость к истиранию и смазыванию.
Для маркировки кабелей и проводов успешно применяются компактные ленточные принтеры DYMO и BRADY.
General descriptions
Producer of equipment
BRADY
Code
brd217022
Purchase and delivery terms
Buy THTFP-01-425 you can send an order from the site by calling
+38(056) 720-90-37, +38(095) 470-65-11, +38(067) 384-69-83,
or sending an e-mail:
vostok@pkf.dp.ua
.
Delivery
*
is from Dnipro trucking companies in all regions of Ukraine: Kyiv, Kharkiv, Lviv, Odessa, Zhitomir, Kiev, Ivano-Frankivsk, Kirovohrad, Luhansk, Lutsk, Mykolaiv, Poltava, Rivne, Sumy, Ternopil, Uzhhorod, Kherson, Khmelnytsky, Cherkasy, Chernihiv, Chernivtsi and other regions.
*
If the condition does not specify delivery and payment of delivery is not included in the price of the goods
.
By purchasing THTFP-01-425 from the company Vostok, you get quality service support, warranty services, information and advisory support.