Весы крановые ЕрМак ВК1рк
Электронные крановые весы ЕрМак ВК1рк применяются для взвешивания грузов в процессе их погрузки и выгрузки краном на металлургических, химических, перерабатывающих, машиностроительных предприятиях.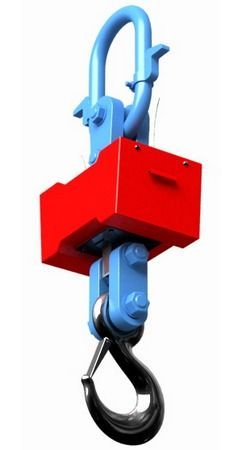 Весы крановые подвесные ЕрМак ВК1рк оборудованы грузоприемным модулем с одним тензометрическим датчиком веса со степенью защиты IP68. Класс защиты аппаратуры грузоприемного модуля — IP65. Корпус выполнен из стали, который увеличивает прочность весов. Работают весы в автономном режиме от встроенного аккумулятора, который обеспечивает 48 часов работы без подзарядки.
Управление весами осуществляется дистанционно по радиоканалу на расстоянии до 200 метров. Для управления весами применяется пульт дистанционного управления. Кроме этого, пульт управления оборудован графическим жидкокристаллическим дисплеем, на котором отображаются результаты о взвешивании. Опционально ПУ можно укомплектовать защитным чехлом, ремнем и футляром для ношения на плече.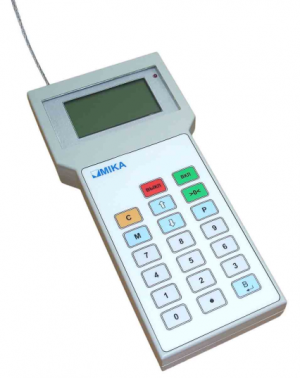 Особенности и функции:
управление по радиоканалу;
функция тарирования;
функция выборки массы тары;
переход в ждущий режим при отсутствии нагрузки;
индикация о перегрузе;
индикация о перегреве;
индикация о разряде аккумулятора;
подсветка дисплея пульта управления;
сменный аккумуляторный блок (опция);
допускаемая перегрузка без потери метрологических характеристик — 125% от НПВ;
допускаемая перегрузка без разрушения — 250% от НПВ;
класс защиты тензодатчика — IP68;
класс защиты аппаратуры грузоприемного модуля — IP65;
диапазон рабочей температуры — от -25°С до +55°С.
Можно заказать крановые электронные весы серии ЕрМак ВК1рк другой грузоподъемности — 2000 кг, 5000 кг, 10000 кг, 20000 кг, 30000 кг, 50000 кг и 80000 кг.
General descriptions
Producer of equipment
MІKA, Ukraine
Technical descriptions
MLW
1 т
Discreteness, g
200
Type of indicator
ЖКИ
Amount of indicators
1
radio channel
Yes
Range of workings temperatures, °C
от -25 до +55
Industrial class of defence
IP-68
Accumulator
Yes
Duration of work at an autonomous feed
48 hour
Functions
Mass of container
Yes
Automatic disconnecting of power
Yes
Purchase and delivery terms
Buy весы крановые ермак вк1рк you can send an order from the site by calling
+38(056) 720-90-37, +38(095) 470-65-11, +38(067) 384-69-83,
or sending an e-mail:
vostok@pkf.dp.ua
.
Delivery
*
is from Dnipro trucking companies in all regions of Ukraine: Kyiv, Kharkiv, Lviv, Odessa, Zhitomir, Kiev, Ivano-Frankivsk, Kirovohrad, Luhansk, Lutsk, Mykolaiv, Poltava, Rivne, Sumy, Ternopil, Uzhhorod, Kherson, Khmelnytsky, Cherkasy, Chernihiv, Chernivtsi and other regions.
*
If the condition does not specify delivery and payment of delivery is not included in the price of the goods
.
By purchasing весы крановые ермак вк1рк from the company Vostok, you get quality service support, warranty services, information and advisory support.