28 830 UAH
Wholesale 27 965,10 UAH
AXIS ADS 60 имеет 6 режимов работы и максимальное время сушки до 10 часов. Интервал между взвешиваниями составляет от 1сек до 180сек. У влагомера несколько условий окончания определения влажности: по времени, автоматически и ручной.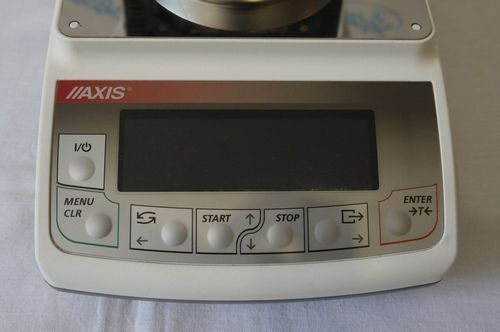 В корпус встроены 2 галогеновые лампы по 100W и длиною 78мм. Время нагрева сушильной камеры до 100°С составляет 75сек.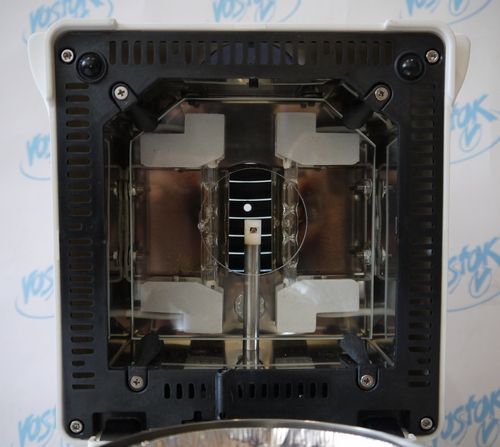 Интерфейсы RS232C, USB, PS2.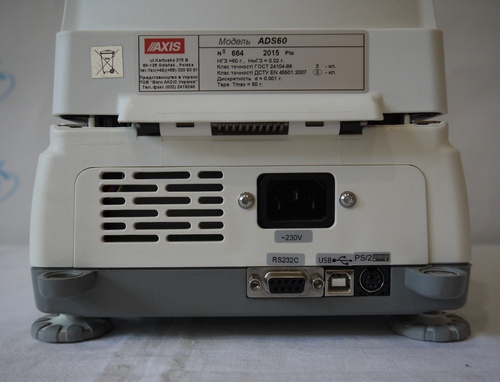 Размер сушильной камеры Ø108х20мм. Размер чашки для проб Ø 90мм. Основное направление использования влагомера — контроль входного сырья и конечной продукции.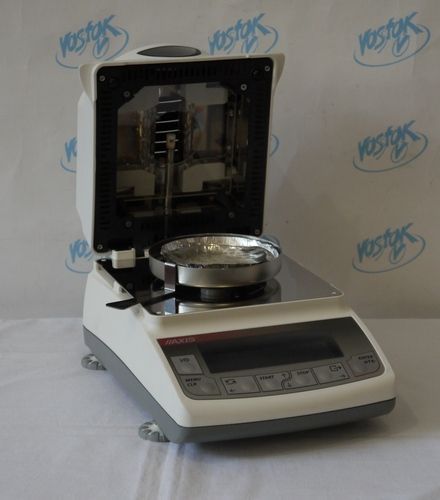 Весы серии ADS внесены в Госреестр №У1214-09. Стоимость Госповерки включена в стоимость анализатора влажности.
Анализатор влажности ADS применяется для анализа содержания влаги в материалах и веществах в лабораториях, в процессе производства при контроле качества продукции. Весы-влагомер собираются из лабораторных весов II (ДСТУ EN 45501:2007)/3 класса (ГОСТ24104-88) точности по ГОСТ 24104 и встроенного в них устройства для сушки.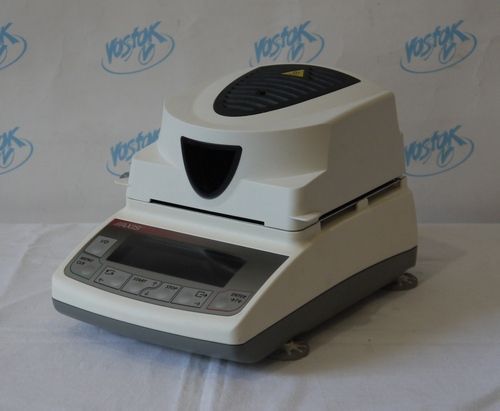 Весы-влагомер можно использовать в качестве традиционных лабораторных весов и в качества автоматизированного прибора для определения содержания влаги в образцах веществ и материалов. Во влагомере используется термогравиметрический метод, который заключается в определении массы образца вещества до и после его высушивания путем нагревания.
Электронные весы-влагомер предназначены для работы в исследовательских и контрольных лабораториях на предприятиях химической, пищевой и легкой промышленностей, в учреждениях контроля качества товаров и услуг, природоохранных учреждениях и пр.
General descriptions
Producer of equipment
AXIS, Poland
Technical descriptions
MLW (most limit of weighing), kg
0,06
the least limit of weighing
0,02
Type of indicator
ЖКИ
Amount of indicators
1
Range of workings temperatures, °C
от 18 до 33
ENG: Диапазон температуры высушивания
до 160 °C
Load plate material
Stainless steel
Accumulator
No
Power
~ 230В, 50Гц, 230VA
Weight,
3,9
Dimensions, mm
185х290х170
Purchase and delivery terms
Buy AXIS ADS 60 you can send an order from the site by calling
+38(056) 720-90-37, +38(095) 470-65-11, +38(067) 384-69-83,
or sending an e-mail:
vostok@pkf.dp.ua
.
Delivery
*
is from Dnipro trucking companies in all regions of Ukraine: Kyiv, Kharkiv, Lviv, Odessa, Zhitomir, Kiev, Ivano-Frankivsk, Kirovohrad, Luhansk, Lutsk, Mykolaiv, Poltava, Rivne, Sumy, Ternopil, Uzhhorod, Kherson, Khmelnytsky, Cherkasy, Chernihiv, Chernivtsi and other regions.
*
If the condition does not specify delivery and payment of delivery is not included in the price of the goods
.
By purchasing AXIS ADS 60 from the company Vostok, you get quality service support, warranty services, information and advisory support.