Discount 36%! New price is 352 hryvnas.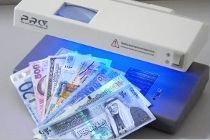 Money detector PRO-12 LPM can check bank notes on almost all protective signs. Due to its compact size, it can be used almost everywhere for detection of banknotes and documents from all states of the world: in the stores and supermarkets, shopping centers, gas stations, currency exchange offices, banks etc.
Range of functions
The device is equipped with two high-powered ultraviolet lamps (6 W). It enables to control easily protective fibers, thread with face value etc in any lighting condition
Capability of magnetic marks checking helps to control presence of magnetic paints.
Bottom illumination in combination with fivefold loupe ensures thorough checking of watermarks, coincidental image, micro patters and micro printing.
Besides, PRO-12 LPM is equipped with touch switching on sensor: the device switches on its own if the banknote is brought closely to the service module, and it switches off in 20 seconds after the operation is finished. It significantly saves service life of the lamps – in 30 times!
Multipurpose device.
The device combines four types of detection and it is very efficient model from the point of resources and price view.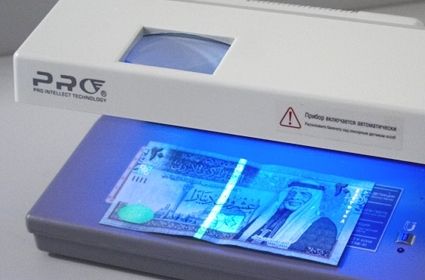 Due to the high-capacity ultraviolet luminescence, PRO 12LPM can identify details of bank notes UV-image in any lighting conditions.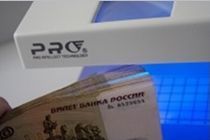 The construction of PRO 12LРM enables to check entire bundle of banknotes at once. False bank note, reflecting UV-rays, will be visible as thin bright stripe.
General descriptions
Producer of equipment
RPO, Japan
Technical descriptions
Type of control
UV
A type
Desktop
Inspection
Manual (viewing)
Power
от сети 220В (50 Гц)
Weight,
0,9
Dimensions, mm
270 х 140 х 160
Purchase and delivery terms
Buy Money detector PRO 12LPM you can send an order from the site by calling
+38(056) 720-90-37, +38(095) 470-65-11, +38(067) 384-69-83,
or sending an e-mail:
vostok@pkf.dp.ua
.
Delivery
*
is from Dnipro trucking companies in all regions of Ukraine: Kyiv, Kharkiv, Lviv, Odessa, Zhitomir, Kiev, Ivano-Frankivsk, Kirovohrad, Luhansk, Lutsk, Mykolaiv, Poltava, Rivne, Sumy, Ternopil, Uzhhorod, Kherson, Khmelnytsky, Cherkasy, Chernihiv, Chernivtsi and other regions.
*
If the condition does not specify delivery and payment of delivery is not included in the price of the goods
.
By purchasing Money detector PRO 12LPM from the company Vostok, you get quality service support, warranty services, information and advisory support.