Receipt printer Citizen CT-S651 black CTS651SNNEBK
9 450 UAH
Wholesale 8 977,50 UAH
Reliable and easy-to-use receipt printer Citizen CT-S651 CTS651SNNEBK is due for receipt, tickets and date from POS-terminals printing. It can be used in supermarkets, small stores and other wholesale and retail stores.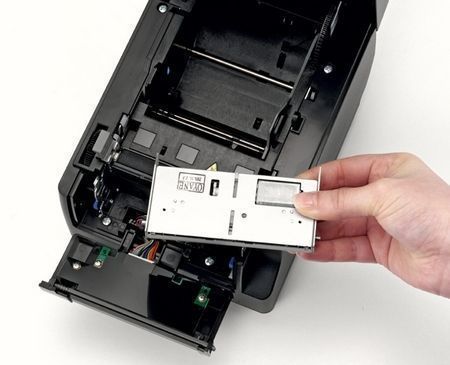 Citizen CT-S651 printer demonstrates high printing speed 200 mm/sec and completed with reliable and functional automatic cutter of receipt tape.
Light emitting diode indicators reflect the printer processes, errors and messages.
Up-to-date design, ergonomically placed buttons, high printing speed, functions and reliability are the main advantages of Citizen CT-S651.
General descriptions
Producer of equipment
Citizen
Code
CTS651SNNEBK
Technical descriptions
Printer Type
Чековый
Print method
Direct Thermal Printing
Print resolution
203 dpi
Speed of seal
200 mm/s
Width of seal
80 мм
Maximal diameter of roll
83 mm
Temperature range
от 5 до 45 °C
Storage temperature range
от -20 до +60 °С
Power
DC24В, 2.1A
Weight,
1,9
Dimensions, mm
145 х 192 х 142
Communications
Interface
Ethernet, LPT, RS-232, USB
Functions
Print on
Check tape
Features
Method of separation of check
Paper autocarver
Additional information
Barcodes
UPC-A/E, JAN(EAN) 13/8 columns, ITF, CODE 39, CODE 128, CODABAR (NW-7), CODE 93, PDF417, QR Code
Purchase and delivery terms
Buy Receipt printer Citizen CT-S651 black CTS651SNNEBK you can send an order from the site by calling
+38(056) 720-90-37, +38(095) 470-65-11, +38(067) 384-69-83,
or sending an e-mail:
vostok@pkf.dp.ua
.
Delivery
*
is from Dnipro trucking companies in all regions of Ukraine: Kyiv, Kharkiv, Lviv, Odessa, Zhitomir, Kiev, Ivano-Frankivsk, Kirovohrad, Luhansk, Lutsk, Mykolaiv, Poltava, Rivne, Sumy, Ternopil, Uzhhorod, Kherson, Khmelnytsky, Cherkasy, Chernihiv, Chernivtsi and other regions.
*
If the condition does not specify delivery and payment of delivery is not included in the price of the goods
.
By purchasing Receipt printer Citizen CT-S651 black CTS651SNNEBK from the company Vostok, you get quality service support, warranty services, information and advisory support.
People often buy with this product