XPrinter XP-С58Е USB и LAN
1 734,00 UAH
Wholesale 1 681,98 UAH
XPrinter XP-С58Е — бюджетный чековый принтер с компактными размерами, предназначенный для использования в торговле и сфере обслуживания для печати текстовой информации, логотипов и штрих-кодов на чековой ленте шириной 57 мм. Отличное решение для автоматизации кафе, баров, ресторанов.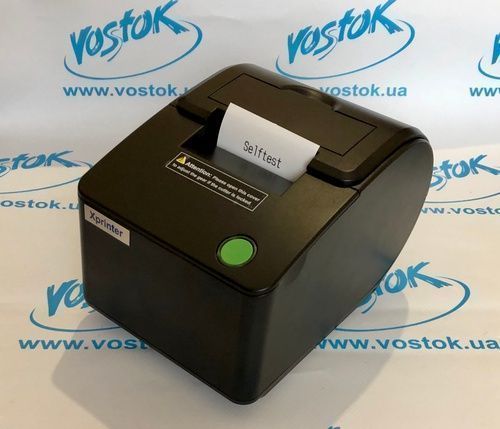 XPrinter очень легок в использовании и не требует обучения персонала для работы с ним. Продуманная конструкция устройства для быстрой и легкой замены рулона чековой ленты.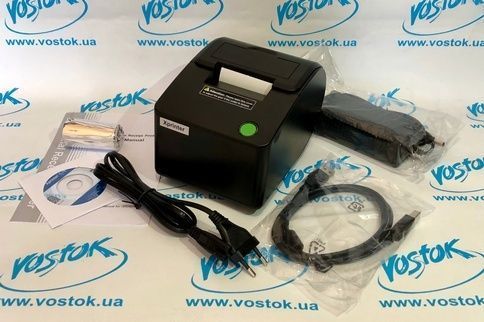 Принтер бюджетный, но имеет автоматический обрезчик чеков, который рассчитан на 1,5 млн обрезов. Скорость не самая высокая, но достаточная для быстрой печати чека — 90 мм в секунду. В XPrinter XP-С58Е есть все необходимые интерфейсы для подключения в учетную систему и дополнительного оборудования — USB или Ethernet, а также порт для подключения денежного ящика (12 В, 1 А).
General descriptions
Producer of equipment
Xprinter
Technical descriptions
Printer Type
Чековый
Print method
Direct Thermal Printing
Print resolution
203 dpi
Speed of seal
90 mm/s
Width of seal
57 мм
Maximal diameter of roll
60 mm
Temperature range
до 45 °C
Storage temperature range
от -10 до +60 °С
Power
DC 12V, 2.6A
Weight,
0,58
Dimensions, mm
169,3х120х111
Communications
Interface
Ethernet, USB
Functions
Print on
Check tape
Features
Method of separation of check
Paper autocarver
Additional information
Barcodes
UPC-A/UPC-E/JAN13(EAN13)/JAN8(EAN8)/ CODE39/CODABAR/ITF/CODE93/CODE128
Purchase and delivery terms
Buy XPrinter XP-с58е USB и LAN you can send an order from the site by calling
+38(056) 720-90-37, +38(095) 470-65-11, +38(067) 384-69-83,
or sending an e-mail:
vostok@pkf.dp.ua
.
Delivery
*
is from Dnipro trucking companies in all regions of Ukraine: Kyiv, Kharkiv, Lviv, Odessa, Zhitomir, Kiev, Ivano-Frankivsk, Kirovohrad, Luhansk, Lutsk, Mykolaiv, Poltava, Rivne, Sumy, Ternopil, Uzhhorod, Kherson, Khmelnytsky, Cherkasy, Chernihiv, Chernivtsi and other regions.
*
If the condition does not specify delivery and payment of delivery is not included in the price of the goods
.
By purchasing XPrinter XP-с58е USB и LAN from the company Vostok, you get quality service support, warranty services, information and advisory support.