Model RZ600-200E-000R1 is from Zebra RZ600 series. It is designed on the basis of industrial label printer Zebra ZM600. All the printers of this series are designed for full-time work and large volumes of labels.
Industrial high-performance RFID-printer/encoder Zebra RZ 600 is equipped with high-frequency RFID-module and prints and encodes different smart-labels with RFID tags. The printer can work with coding standard EPC Gen2 which is now the most prospective and popular standard.
RFID-printer Zebra (RZ600-200E-000R1) printing speed is 254 mm per second with 203 dpi resolution and up to 168 mm labels width.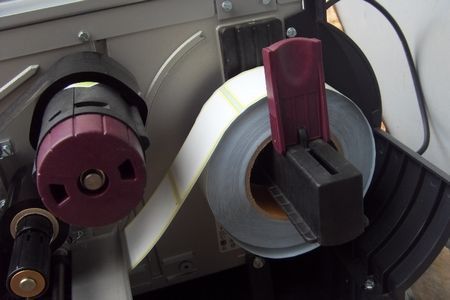 This printer is ergonomic, it is easy to load labels and ink thermal and transfer ribbon, reasonable adjustment of expandable materials allows using Zebra RZ 600 easily and efficiently at warehouses and salesrooms for labeling goods and printing waybills.

The printer has a lot of network opportunities: USB, RS232, and LPT in standard in basic configuration and Ethernet and WiFi optionally, it can be included into already existing warehouse and production processes.
Characteristics of printer
RFID-tags counter for checking and counting "good" and unused tags.
Adjustable capacity of the reader and encoder allows to code small tags better.
32-bit 133 MHz RISC-processor speeds up data processing and increases printer efficiency.
Popular standard of encoding EPC Gen2.
XML language support widens printer capacities.
Large window for controlling expandable materials.
Large display 240*128 pixels.
Auto calibrating.
Shaped metal case.
Built-in clock.
You can buy Zebra RZ 600 with 300 dpi resolution — Zebra RZ600 RZ600-300E-000R1.
Purchase and delivery terms
Buy RFID RZ600-200E-000R1 you can send an order from the site by calling
+38(056) 720-90-37, +38(095) 470-65-11, +38(067) 384-69-83,
or sending an e-mail:
vostok@pkf.dp.ua
.
Delivery
*
is from Dnipro trucking companies in all regions of Ukraine: Kyiv, Kharkiv, Lviv, Odessa, Zhitomir, Kiev, Ivano-Frankivsk, Kirovohrad, Luhansk, Lutsk, Mykolaiv, Poltava, Rivne, Sumy, Ternopil, Uzhhorod, Kherson, Khmelnytsky, Cherkasy, Chernihiv, Chernivtsi and other regions.
*
If the condition does not specify delivery and payment of delivery is not included in the price of the goods
.
By purchasing RFID RZ600-200E-000R1 from the company Vostok, you get quality service support, warranty services, information and advisory support.