RZ400-200E-000R1 — is a basic model of Zebra RZ 400 series. High efficient RFID-printers are designed for extending popular line of Z-series printers with ultra high frequency RFID module. Printers of this line represent a new price and quality ratio. The printer Zebra RZ 400 is reliable and designed for harsh working conditions. It can work with RFID-tags coding standard EPC Gen2 being one of the most perspective and popular standard.
Zebra RZ 400 is in the solid metal case ad equipped with light control board, Multilanguage graphic display.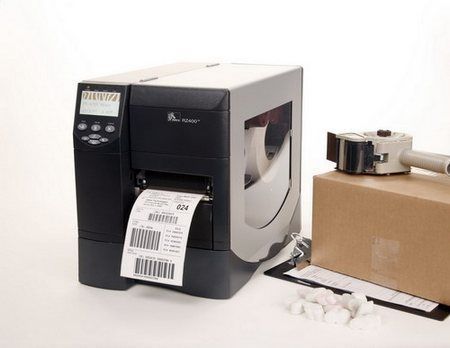 RFID-printer Zebra RZ 400 has 203 dpi printing resolution, printing speed – 254 mm/sec. It works with transponders (RFID tags) with ultra high frequency (UHF) 903-928 MHz of EPC UHF Class 1 9Alien Technology type.
The data is transmitted via interfaces USB 2.0, RS-232 or LPT in the standard configuration. Interfaces Ethernet or WiFi are optional.
Characteristics of printer
Embedded UHF reader/encoder with EPC Gen 2/ ISO 18000-6C support.
RFID-tags counter for checking and counting "good" and unused tags.
Adjustable capacity of reader and encoder allows encoding small tags.
32-bit 133 MHz RISC-processor increases data processing and printer production efficiency.
XML language support.
Big window for controlling expandable materials.
Big display 240*180 pixels.
Auto calibrating.
Shaped metal case.
Embedded clock.
Also you can order this model in the following configuration:
(RZ400-200E-500R1) Zebra RZ400,RFID UHF,203 dpi, with reelman;
(RZ400-300E-000R1) Zebra RZ400,RFID UHF,300 dpi;
(RZ400-300E-500R1) Zebra RZ400,RFID UHF,300 dpi, with reelman.
Purchase and delivery terms
Buy RZ400-200E-000R1 you can send an order from the site by calling
+38(056) 720-90-37, +38(095) 470-65-11, +38(067) 384-69-83,
or sending an e-mail:
vostok@pkf.dp.ua
.
Delivery
*
is from Dnipro trucking companies in all regions of Ukraine: Kyiv, Kharkiv, Lviv, Odessa, Zhitomir, Kiev, Ivano-Frankivsk, Kirovohrad, Luhansk, Lutsk, Mykolaiv, Poltava, Rivne, Sumy, Ternopil, Uzhhorod, Kherson, Khmelnytsky, Cherkasy, Chernihiv, Chernivtsi and other regions.
*
If the condition does not specify delivery and payment of delivery is not included in the price of the goods
.
By purchasing RZ400-200E-000R1 from the company Vostok, you get quality service support, warranty services, information and advisory support.