Laser scanner Godex GS-220U
1 896 UAH
Wholesale 1 839,12 UAH
Godex GS-220U laser scanner is of ergonomic and streamline form, it is an ideal choice for retail stores. Godex GS-220U is for 1D codes. Reliability, efficiency and reasonable price are features of the scanner.
Bar codes of any quality even badly printed and damaged can be scanned due to powerful scanning element. Light and sound indicators make user's work easier. The case of Godex GS-220U is a shockproof, protects internal mechanisms of scanner from damages.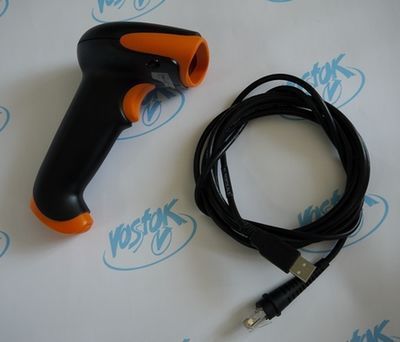 The complete set includes USB cable for connection to other devices.
Technical characteristics of Godex GS-220U scanner
Scanning speed: 72 scan/sec.
Scanning distance: from 12.7 to 254 mm.
Connection interface: PS/2, USB, RS-232.
Cradle: no. Scanning resolution: 4 mil (0.1mm).
Viewing angle ± 68° (down), ± 46° (across).
Operating temperature: 0°С ~ + 40°С.
Case: shockproof plastic.
Quality standards: CE, FCC, BSMI.
General descriptions
Producer of equipment
Godex
Technical descriptions
Technology scanning bar codes
Laser
Type of Scanner
Hand
Wired scanner. Wireless scanner
Max. distance of reading
254 mm
Read codes
Codabar, Code 3 of 9 включая PARAF
Interleaved 2 of 5, Straight 2 of 5 Industrial, Matrix 2 of 5, Code 11, Code 93,Code 128, UPC, EAN/JAN, China Postal Code, GS1 DataBar. 2005 Sunrise/GTIN compliant
1D/2D
1D
Weight,
0,12
Dimensions, mm
110 x153x70
Communications
COMMUNICATIONS
USB
Acquisition
Basic Kit
сканер, кабель 2,5 м
Purchase and delivery terms
Buy Laser scanner Godex GS-220U you can send an order from the site by calling
+38(056) 720-90-37, +38(095) 470-65-11, +38(067) 384-69-83,
or sending an e-mail:
vostok@pkf.dp.ua
.
Delivery
*
is from Dnipro trucking companies in all regions of Ukraine: Kyiv, Kharkiv, Lviv, Odessa, Zhitomir, Kiev, Ivano-Frankivsk, Kirovohrad, Luhansk, Lutsk, Mykolaiv, Poltava, Rivne, Sumy, Ternopil, Uzhhorod, Kherson, Khmelnytsky, Cherkasy, Chernihiv, Chernivtsi and other regions.
*
If the condition does not specify delivery and payment of delivery is not included in the price of the goods
.
By purchasing Laser scanner Godex GS-220U from the company Vostok, you get quality service support, warranty services, information and advisory support.