Bar-code scanner Sulux 616А
2 112 UAH
Wholesale 2 048,64 UAH
Bar code scanner Sulux 616А is a reliable and comfortable model with scanning speed 100 scan/sec. Embedded decoder allows to scan and decode all the popular standard linear bar-codes and bar-codes of RSS standard.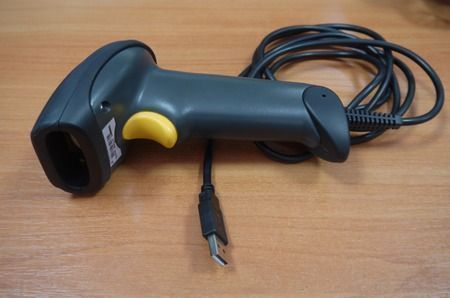 Sulux 616А can scan bar codes from 0.1 mm resolution and from 325 mm distance. The case is made from shockproof plastic and reliably protects internal mechanisms of Sulux 616А from damages. It endures repeated falls from 1.5 m height.
Technical characteristics
Emitting source – red light emitting diode of visible spectrum.
Type of scanning element – CCD.
Scanning speed – 100 scan/sec.
Scanning distance – up to 325 mm.
Resolution – 0.1 mm.
Connection interface – KBW, RS-232, USB.
Processor – 32 bits.
The scanner can be efficiently used in logistics sphere.
General descriptions
Producer of equipment
SUNLUX, China
Technical descriptions
Technology scanning bar codes
Laser
Type of Scanner
Hand
Wired scanner. Wireless scanner
Max. distance of reading
325 mm
Read codes
Все популярные стандартные линейные штрих-коды; штрих-коды стандарта RSS
1D/2D
1D
Power
5 В ± 0,25 В (постоянного тока)
Communications
COMMUNICATIONS
RS-232, USB
Purchase and delivery terms
Buy Bar-code scanner Sulux 616а you can send an order from the site by calling
+38(056) 720-90-37, +38(095) 470-65-11, +38(067) 384-69-83,
or sending an e-mail:
vostok@pkf.dp.ua
.
Delivery
*
is from Dnipro trucking companies in all regions of Ukraine: Kyiv, Kharkiv, Lviv, Odessa, Zhitomir, Kiev, Ivano-Frankivsk, Kirovohrad, Luhansk, Lutsk, Mykolaiv, Poltava, Rivne, Sumy, Ternopil, Uzhhorod, Kherson, Khmelnytsky, Cherkasy, Chernihiv, Chernivtsi and other regions.
*
If the condition does not specify delivery and payment of delivery is not included in the price of the goods
.
By purchasing Bar-code scanner Sulux 616а from the company Vostok, you get quality service support, warranty services, information and advisory support.