Сканер штрих-кода Zebra DS2208-SR7U2100AZW — сканер для считывания линейных и двухмерных штрих-кодов.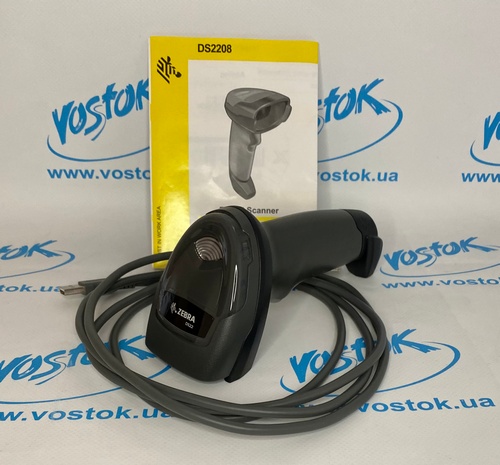 Прочный корпус сканера штрих-кодов DS2208 выдерживает неоднократные падения с высоты до 1,5 м. Благодаря многонаправленному лучу просто наводить и сканировать, не нужно четко направлять сканер на штриховой код в отличие от одномерных сканеров.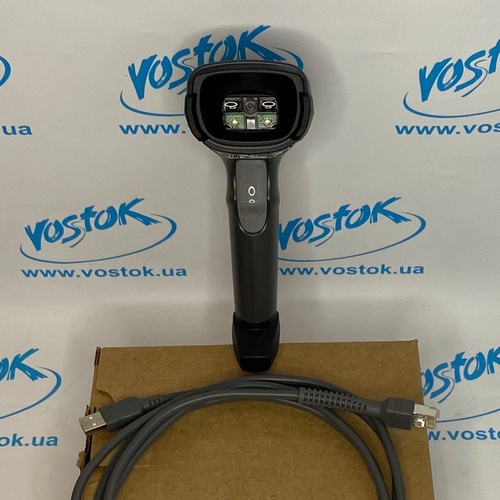 Интеллектуальная технология обработки изображений PRZM дает возможность мгновенно декодировать 1D и 2D коды. Алгоритмы декодирования от Zebra гарантируют высокую производительность сканера DS2208 при сканировании штрих-кодов плохого качества. На кассах не будут создаваться очереди, так как считывание происходит с первого раза. Сканирование штрих-кодов происходит в таком диапазоне: от 1,23см до 36,8см. Такой диапазон обеспечивает быстрое сканирование.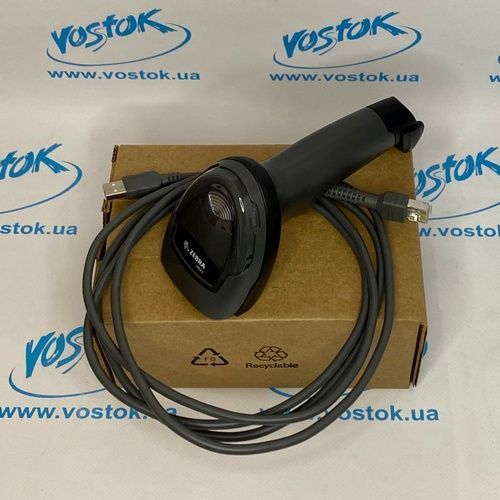 Сканер быстро переключается между ручным режимом и режимом управления без использования рук. Сканер DS2208 достаточно просто поместить в подставку, чтобы он автоматически переключился в режим "свободные руки". Удобная подставка дает возможность пользователю легко переходить в режим автоматического сканирования. Подставка приобретается отдельно!
Доступность сканера Zebra DS-2208 по цене не влияет на его эффективность и функциональные возможности. Он позволяет выполнять любые задачи сканирования. Zebra DS2208 — имидж-сканер не требующий усилий при подключении и обслуживании.
General descriptions
Producer of equipment
Zebra Technologies, USA
Code
DS2208-SR7U2100AZW
Technical descriptions
Technology scanning bar codes
Image
Type of Scanner
Hand
Wired scanner. Wireless scanner
1D/2D
1D, 2D
Weight,
0,148
Dimensions, mm
170x85x65
Communications
COMMUNICATIONS
USB
Acquisition
Basic Kit
Сканер, кабель USB, инструкция
Purchase and delivery terms
Buy Zebra DS2208-SR7U2100AZW you can send an order from the site by calling
+38(056) 720-90-37, +38(095) 470-65-11, +38(067) 384-69-83,
or sending an e-mail:
vostok@pkf.dp.ua
.
Delivery
*
is from Dnipro trucking companies in all regions of Ukraine: Kyiv, Kharkiv, Lviv, Odessa, Zhitomir, Kiev, Ivano-Frankivsk, Kirovohrad, Luhansk, Lutsk, Mykolaiv, Poltava, Rivne, Sumy, Ternopil, Uzhhorod, Kherson, Khmelnytsky, Cherkasy, Chernihiv, Chernivtsi and other regions.
*
If the condition does not specify delivery and payment of delivery is not included in the price of the goods
.
By purchasing Zebra DS2208-SR7U2100AZW from the company Vostok, you get quality service support, warranty services, information and advisory support.