ENG: Принтер этикеток TSC МХ 640
124 374,00 UAH
Wholesale 111 936,60 UAH
TSC МХ 640 — промышленный термотрансферный принтер этикеток с большим 4.3-дюймовым цветным сенсорным экраном и высоким разрешением печати — 600 точек на дюйм. Принтер предназначен для печати очень маленьких 2D-штрих-кодов, мелкого текста, изображений со сверхвысоким разрешением и отлично подойдет для печати ювелирных бирок.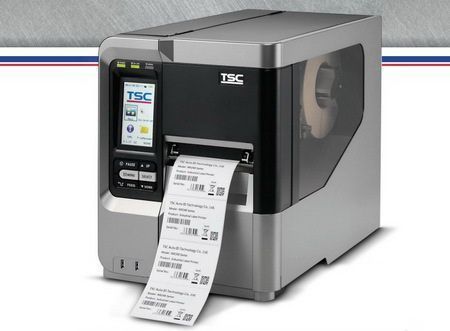 Принтер МХ 640 оснащен сенсорным ЖК-дисплеем с диагональю 109 мм, который позволяет быстро и легко управлять работой принтера. Можно легко попасть в любой пункт меню просто нажав пальцем на экране. Также можно управлять принтером традиционно с помощью шести кнопок.
Печатающий механизм принтера выполнен из литого алюминия, заключенного в прочный и легкий корпус, который выдерживает тяжелые условия эксплуатации. Складывающаяся крышка обеспечивает простую и быструю заправку этикеток и риббона в принтер. Использоваться могут рулоны красящей ленты длиной до 600 м с любым типом намотки — красящим слоем внутрь или наружу.
Принтер уже в стандартной комплектации имеет все необходимые разъемы — RS-232C, USB 2.0, Centronics, Ethernet 10/100 Мбит/сек. Два порта USB-Host позволяют подключать к принтеру клавиатуру и сканер штрих-кода. А с помощью опции Wi-Fi вы сможете обеспечить безопасную беспроводную связь по стандарту 802.11b/g.
Особенности
Прочный алюминиевый корпус.
Сенсорный жидкокристаллический дисплей диагональю 109 мм с 6 кнопками меню.
Быстрый процессор с тактовой частотой 536 МГц.
Большой объем памяти — 128 МБ Flash и 256 МБ SDRAM.
Разъем для карт памяти формата SD.
Высокая скорость печати — до 152 мм в секунду.
Длина намотки риббона – 600 метров.
Прошивка TSPL-EZ работает с тремя популярными языками программирования: TSC, TPLE и TPLZ.
Два порта USB host для автономных приложений.
General descriptions
Producer of equipment
TSC
Technical descriptions
Type of printer
промышленый принтер этикеток
Print method
termotransfernaja
Resolution
600 dpi
Print speed, mm/sec.
152
Print width
104
Print length
до 2540 mm
Maximum roll diameter
203 mm
Operating temperature
от 5 до 40 °С
Power
220 В
Weight,
18
Dimensions, mm
300 x 393 x 510
Ports and slots of expansion
Interface
Internal Ethernet, LPT, RS-232, USB
Additional information
Ribbons
WAX, WAX/RESIN, RESIN, длина до 600 м, втулка 25 мм
тип намотки риббона: внутрь или наружу
Types
8 буквенно-цифровых шрифтов, Monotype Imaging® true type font engine with one CG Triumvirate Bold Condensed scalable font
Bar codes
1D: Code 39, Code 93, Code128UCC, Code128 subsets A.B.C, Codabar, Interleave 2 of 5, EAN-8, EAN-13, EAN-128, UPC-A, UPC-E, EAN и цифровые дополнения UPC 2(5), MSI, PLESSEY, POSTNET, RSS-Stacked, GS1 DataBar, Code 11, China Post.
2D: PDF-417, Maxicode, DataMatrix, QR-код, Aztec.
Purchase and delivery terms
Buy ENG: принтер этикеток TSC мх 640 you can send an order from the site by calling
+38(056) 720-90-37, +38(095) 470-65-11, +38(067) 384-69-83,
or sending an e-mail:
vostok@pkf.dp.ua
.
Delivery
*
is from Dnipro trucking companies in all regions of Ukraine: Kyiv, Kharkiv, Lviv, Odessa, Zhitomir, Kiev, Ivano-Frankivsk, Kirovohrad, Luhansk, Lutsk, Mykolaiv, Poltava, Rivne, Sumy, Ternopil, Uzhhorod, Kherson, Khmelnytsky, Cherkasy, Chernihiv, Chernivtsi and other regions.
*
If the condition does not specify delivery and payment of delivery is not included in the price of the goods
.
By purchasing ENG: принтер этикеток TSC мх 640 from the company Vostok, you get quality service support, warranty services, information and advisory support.