Thermal labels for receipt printing scale
Thermal labels for receipt printing scale – label with thermal chemical layer and wind is especially for scale equipped with label thermal printers.
Thermal label for scale with printing can be delivered with preprint as well as can be blank.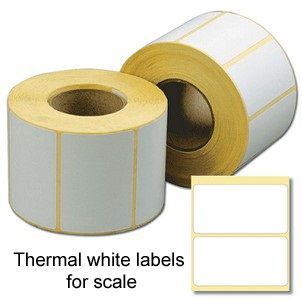 Preprint on the label can be standard – so called "net", or individual with client's design.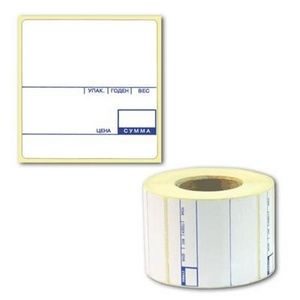 Receipt printing scale depending on the model or software version can print: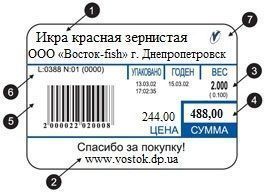 The product title
Additional information
The product weight
Scale or lot number
Barcode
Price
Graphic logotype
The product composition
Package weight
Currency symbols printing
Adjustable printing label structure
Scale number
The product group number
While choosing thermal labels for receipt printing scale, you should pay your attention to linear sizes, winding direction, number of labels in the roll.
Thermal label sizes. Labels measure millimeters. Labels are marked as A-B on the process chart. In the label title, first indicated is A – width, then B – length. For example – thermal label is 58x60 mm. The number of labels in the roll or winding is – C. Number of labels in one roll is indicated, it depends on the label length. For example – 58x30 (1000), label 58x60 (700).
Material type of labels is D. All the thermal labels can be divided into two groups: thermal ECO and thermal-TOP. Labels Thermal-TOP are additionally protected with coating and they are more resistant to unfavorable environment conditions – sunlight, moisture, high temperature, mechanic damages.
The roll diameter (external roll diameter) E. This parameter is usually not mentioned in the label title, but it is important for choosing thermal labels roll for concrete receipt printing scale.
Plug diameter F, non-mentioned in the title. It is usually indicated in the characteristics, measure millimeters. It also should be taken into account while choosing roll for receipt printing scale. This parameter is not important for label printers, but it should be checked for scales.
Roll width (bottom layer) G. it usually measure millimeters. The bottom layer width is important for normal and qualitative printing; it is usually 2-5 mm wider than label width. It should be taken into account in order not to face the problem of consumable materials and printer incompatibility. Some producers forget about that and it leads to label jamming in thermal printer.
Depending on the concrete label printing scale, there are different printing options: symbols number, lines number, graphic, adjusting of information layout. Moreover, available software also influence on the printing adjustments. You should take all the factors into consideration. Thermal label for receipt printing scale is for marking of production with storage time up to 3-4 months. Under the influence of sunlight, temperature or mechanic effect, the label can darken and it significantly worsens text information and barcode state.