2 100,00 UAH
Wholesale 1 995,00 UAH
Весы торговые Jadever JPL-N 30K для статичного взвешивания различных товаров отлично подойдут для использования на предприятиях торговли, в пунктах общественного питания и в любых других сферах хозяйственной деятельности.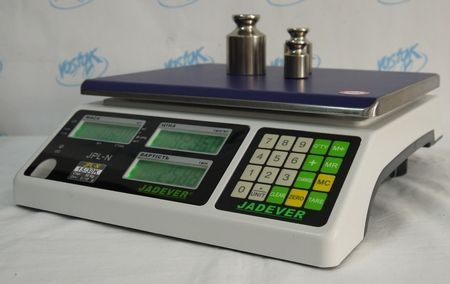 Удобство в эксплуатации обеспечивает мембранная клавиатура и яркие, легкочитаемые дисплеи с подсветкой для продавца, на которые выводятся показания массы, стоимости товара и его цены.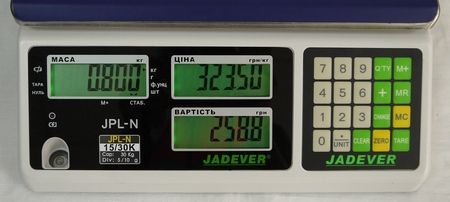 На задней стороне весов расположены три цифровых дисплея покупателя для отображения информации: масса, цена, стоимость.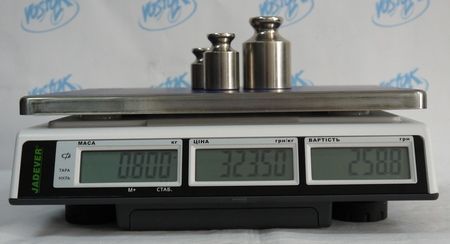 Весы оборудованы встроенным аккумулятором и продолжительность работы от батареи без подзарядки составляет 200 дней эксплуатации. Такой большой срок возможен благодаря энергосберегающей технологии PCB. Платформа выполнена из нержавеющей стали и имеет размеры 240 х 330 мм.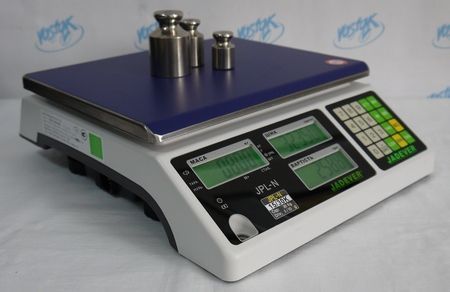 Функции и характеристики весов
Класс точности — средний (III).
Переключение единиц измерения веса.
Автоматическая установка нуля.
Выборка массы тары до 100% от Max.
Функция сдачи и суммирование стоимости.
Счетная функция.
Защита от превышения веса.
Индикатор уровня заряда батареи (дискретный).
Крышка платформы из нержавеющей стали.
Мембранная клавиатура.
Дисплей — жидкокристаллический (LCD), двухсторонний с подсветкой.
Питание — сетевой адаптер (220 В) или аккумулятор (6 В/4 A).
Можно купить торговые электронные весы без стойки с наибольшим пределом взвешивания 15 кг — Jadever JPL-N 15K.
General descriptions
Producer of equipment
JADEVER, Taiwan
Technical descriptions
MLW
30
the least limit of weighing
0,2 kg
Discreteness, g
10
Range of workings temperatures, °C
до 40
Industrial class of defence
IP-53
Size of platform
330x240 мм
Load plate material
Stainless steel
Accumulator
Yes
Power
сетевой адаптер (220 V) тлт аккумулятор (6V/4A)
Weight,
2
Ports and slots of expansion
Interface
Без портов
Functions
An automat setting of zero
Yes
Mass of container
Yes
Purchase and delivery terms
Buy Retail scales JPL-N 30K you can send an order from the site by calling
+38(056) 720-90-37, +38(095) 470-65-11, +38(067) 384-69-83,
or sending an e-mail:
vostok@pkf.dp.ua
.
Delivery
*
is from Dnipro trucking companies in all regions of Ukraine: Kyiv, Kharkiv, Lviv, Odessa, Zhitomir, Kiev, Ivano-Frankivsk, Kirovohrad, Luhansk, Lutsk, Mykolaiv, Poltava, Rivne, Sumy, Ternopil, Uzhhorod, Kherson, Khmelnytsky, Cherkasy, Chernihiv, Chernivtsi and other regions.
*
If the condition does not specify delivery and payment of delivery is not included in the price of the goods
.
By purchasing Retail scales JPL-N 30K from the company Vostok, you get quality service support, warranty services, information and advisory support.