Thermal label printer Zebra LP 2824 Plus
Updated label printer Zebra LP 2824 Plus is the best desk printer today. Practically there are no analogs. All the similar printers will lose if we examine the characteristics more closely.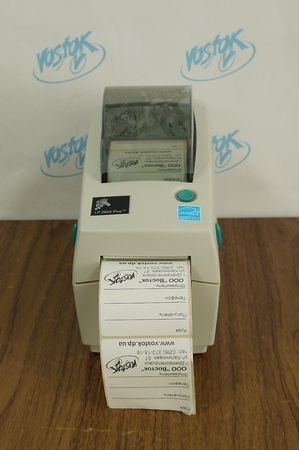 Having wide range of functions and printing speed up to 102 mm/sec, these Zebra LР2824 Plus label printers operate quickly and very efficiently. Moreover, the printer can print on various materials, that's why it can be used for check, receipt and label printing. The printer width is only 107 mm, that's why it may be set in any convenient place. The printer can be used in medical institutions, in retail trade and hotel business sphere. It is a perfect printer for tasks solution.
Labels wound on plug (with internal diameter 25mm - 40mm) can be used for printing. Movable roll blocks are provided for such a purpose. Printing head is fixed on the top of the case and it is settled beck at the same time. So you get full and convenient control to the head for its maintenance and replacement.
Solid ABS construction with double walls safely protects printing mechanism. Reasonably priced label printers Zebra have qualities of larger printing systems besides adjustment and printer operation control functions are accessible for beginner.
General descriptions
Producer of equipment
Zebra (Eltron) Co
Code
282P-201120-000
Technical descriptions
Type of printer
Desktop label printer
Print method
Direct thermal
Recommended loading, labels/days
1500
Resolution
203 dpi
Print speed, mm/sec.
102
Print width
58
Print length
от 20 до 990 mm
Maximum roll diameter
127 mm
Operating temperature
от -4,4 до +41 °С
Storage temperatures
от -40 до +60 °С
Weight,
1,2
Dimensions, mm
107 x 214 x 176
Ports and slots of expansion
Interface
RS-232, USB
Additional information
Bar codes
Линейные штрих-коды: Codabar, Code 39, Code 11 (ZPL), Code 93, Code 128 с версиями А/В/С и UCC Case C Codes, EAN-8, EAN-13, UCC/EAN-128, Logmars, MSI, Planet Code, Plessey, Postnet, Standart 2-of-5, UPC-A, UPC-E, EAN-8 и EAN-13 с 2 или 5 цифровыми изображ
Acquisition
Soft ware
ZebraDesigner, ZebraDesigner Pro, ZebraNet Bridge Enterprise
Purchase and delivery terms
Buy Thermal label printer Zebra LP 2824 Plus you can send an order from the site by calling
+38(056) 720-90-37, +38(095) 470-65-11, +38(067) 384-69-83,
or sending an e-mail:
vostok@pkf.dp.ua
.
Delivery
*
is from Dnipro trucking companies in all regions of Ukraine: Kyiv, Kharkiv, Lviv, Odessa, Zhitomir, Kiev, Ivano-Frankivsk, Kirovohrad, Luhansk, Lutsk, Mykolaiv, Poltava, Rivne, Sumy, Ternopil, Uzhhorod, Kherson, Khmelnytsky, Cherkasy, Chernihiv, Chernivtsi and other regions.
*
If the condition does not specify delivery and payment of delivery is not included in the price of the goods
.
By purchasing Thermal label printer Zebra LP 2824 Plus from the company Vostok, you get quality service support, warranty services, information and advisory support.