Thermal transfer printer GC420t has the same solid construction as models LP 2844™ and TLP 2844™, however the compact dimensions and set of new functions are distinguishing features of this printer.
ZEBRA® GC420 is a high qualitative printer with 8 Mb flash memory and powerful 32-bit processor that ensures ultrahigh printing speed up to 104 mm.
GC420 technical characteristics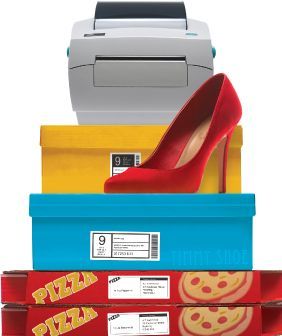 Resolution – 203 dpi
Memory: standard – 8 MB SDRAM, 8 MB – Flash.
Printing width – 104 mm.
Maximum printing speed – 102 mm/sec.
Maximum roll diameter – 127 mm.
Font types: 16 embedded expandable ZPL fonts, one embedded scalable ZPL, five embedded expandable EPL2 fonts, support of graphics and fonts including logos. Support of software programming languages: ZBI 2.0, ZBI-Developer ZPL II, EPL2™ and EPL. Linear bar codes: Coda bar, Code 11 (ZPL), Code 39, Code 93, Code 128, EAN-8, EAN-13, EAN-14 (ZPL), German Post Code (EPL), GS1 DataBar (RSS), GS1 DataBar (RSS-14), Industrial 2-of-5 (ZPL), Interleaved 2-of-5, ISBT-128 (ZPL), Japanese Postnet (EPL), Logmars (ZPL), MSI, Plessey, Postnet, Standard 2-of-5 (ZPL), UCC/ EAN-128 (EPL), UPC-A, UPC-A and UPC-E with EAN 2- or 5-digital extensions, UPC-E, UPC and EAN 2- or 5-digital extensions (ZPL). Operating temperature – from +5°C to +41°C.
Storage temperature – from –40°C to +60°C.
Dimensions – 201х170х208 mm.
Weight – 1.4 kg.
ZEBRA GC420 printer is a multi-functional device. It can be used in health services, retail stores, hotel business, transporting companies, postal services.
Health services
Identification of patients.
Samples marking.
Marking of sterile equipment labels for pharmaceutical products.
Retail trade
Labels for products.
Labels with discounts.
Labels for shelves.
Vouchers and receipts.
Transport Tickets
Hotel, entertainment and service business
Tickets for events and exhibitions.
Labels for fast food products.
Receipts in gambling business.
Delivery systems
Labels for products processing and dispatching.
Postal service
Electronic franking system.
Labels with addresses.
General descriptions
Producer of equipment
Zebra (Eltron) Co
Code
GC420-100520-000
Technical descriptions
Type of printer
Desktop label printer
Print method
termotransfernaja
Resolution
203 dpi
Print speed, mm/sec.
102
Print width
104
Weight,
1
Ports and slots of expansion
Interface
LPT, RS-232, USB
Features
Mode of label (cheque) separation
Ручной (без автообрезчика)
Purchase and delivery terms
Buy Zebra GC420-100520-000 you can send an order from the site by calling
+38(056) 720-90-37, +38(095) 470-65-11, +38(067) 384-69-83,
or sending an e-mail:
vostok@pkf.dp.ua
.
Delivery
*
is from Dnipro trucking companies in all regions of Ukraine: Kyiv, Kharkiv, Lviv, Odessa, Zhitomir, Kiev, Ivano-Frankivsk, Kirovohrad, Luhansk, Lutsk, Mykolaiv, Poltava, Rivne, Sumy, Ternopil, Uzhhorod, Kherson, Khmelnytsky, Cherkasy, Chernihiv, Chernivtsi and other regions.
*
If the condition does not specify delivery and payment of delivery is not included in the price of the goods
.
By purchasing Zebra GC420-100520-000 from the company Vostok, you get quality service support, warranty services, information and advisory support.