Automation of accounting of sales in the store
Automation of accounting in the network of shops.
Automation of retail outlet: one or two jobs. Management and control from a central office.
Cash Register Silex, UNS, IKC + cash drawer.
Barcode scanner Metrologic, Datalogic, Proton
Trade scales CAS, MT (with PC).
Software for working with cash registers.
Software for accounting: 1S.Torgovlya and Warehouse 7.7, 1C. Trade Management 8.1, 1C. Retail 8.1
Set of interface cables
Cash register tape System unit: INTEL Celeron 430/RAM DDR2 1 Gb / HDD 250 Gb / MULTI / MB iG31 / Windows 7 Starter (RS232-2 port) TFT Monitor 15.6'' UPS PowerCom WAR-500A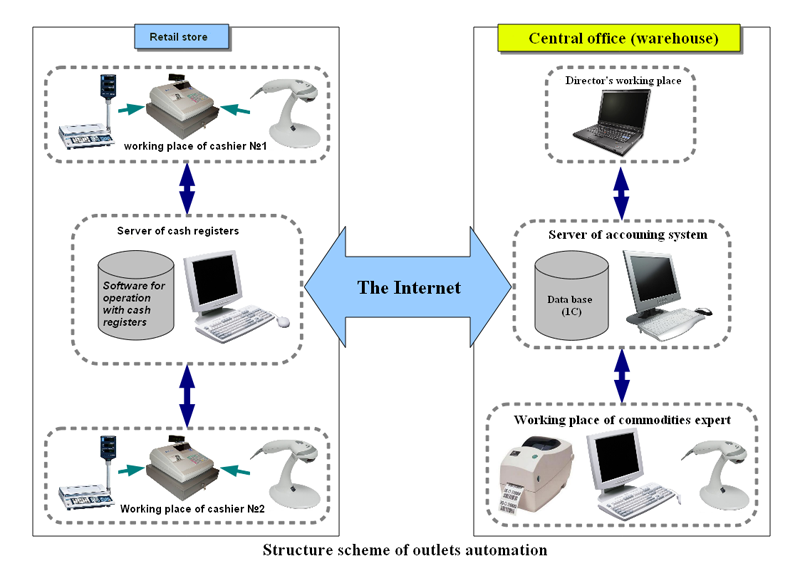 Installation work (wiring + materials)
Setting cash registers: the link with the computer, barcode scanner, scales
Software: Installing and configuring the server box office
Linking Setting
up automated exchange center-TT
Customize 1C: Enterprise (7.7/8.1) TIS to work with cash server.
Linking 1S.7.7 with software client
Education work
Automation of account sales in a retail store - is a step towards automation of accounting throughout the enterprise. The next stage of automation of accounting and control - is a terminal for data collection and surveillance system.
After the introduction and development of HR retail sales system - automated inventory in the store. Application of data collection terminals for inventory to accelerate the processes of production and conversion of data entry. Just reducing the number of personnel required for rediscount.
Next on stage - video surveillance system to control cash transactions. Allows visual monitoring of events, as well as their titration on the screen, record archive. If necessary, you can make a selection on any event - the sale of goods (by name, the bar-code, product group), weighing, check number, date, time, the cashier. Just checked and recorded: the return of the goods, replacement, etc. Each system is individually guarantees economic effect, but combined application of these systems can significantly increase the efficiency and impact of the overall solution.