Microinvest for business automation

Microinvest Company – is Bulgarian developer of software solutions for business automation.
Microinvest designs software products for automation of trade and public catering enterprises, entertaining spheres and restaurant business. Microinvest software solutions help to integrate business facilities into united network with operation in real time in data copying mode. Microinvest products demonstrate their value in practice – in small boutiques as well as in supermarket chains with huge workload and large amount of working places.
Microinvest software can be easily installed and adjusted. There are 5 types of databases - Access, MSDE, MySQL, MS SQL and Oracle, they guarantee high reliability and operation speed. Microinvest can operate with wide range of trade equipment: scales, bar code scanners, cash registers, fiscal registers, POS-terminals, PC, data collection terminals, customer displays etc. Microinvest software is compatible with 1C software products, it enables to import and export data via MS Excel. Microinvest offers software for automation of trade and restaurants. The main features of the software: powerful functionality, simple installation, adjustment and reasonable price.
Microinvest products:
1. Microinvest Warehouse Pro Light. This product is designed for sales control at workload trade facility. The product is optimized for operation with bar codes, can be connected to customer display, cash register and direct printer control.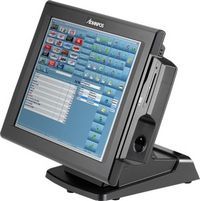 2. Trade solution Microinvest Warehouse Pro – automation system of restaurants, stores, warehouses and retail stores chains.
3. Microinvest Warehouse Pro Mobile. This product is for operation on devices with Windows Mobile 2003 operational system. Microinvest Warehouse Pro Mobile is used for mobile trade, inventory at large facilities, and as portable "personal" terminal for sales, orders and inventory in the office. All up-to-date wireless technologies are used for connection with remote server, so the most convenient scheme is chosen for particular client.
4. Microinvest Billiard Prо. Due to this program, operators can connect and disconnect lighting of billiard tables. Controller enables to count visitors, monitor discounts, and automate personnel work. Controller enables to manage 8 separate tables. Microinvest Company designed management system for billiard-clubs and fitness clubs.
5. Microinvest Nutrition Calculator – this application is used for calculation and technological formula cards created in Microinvest Warehouse Pro.
6. Microinvest Barcode Printer Pro – new generation program for bar code labels designing and printing. It operates with standard laser and ink-jet printers as well as with specialized thermal label printers.
7. Microinvest СyberCafe – is product for public catering facilities, bars and restaurants that offer innovative, prompt and above all extremely interesting service for the clients.
8. Microinvest GPS Tracker is application designed on the basis of up-to-data technologies. It enables to visualize and monitor in details movement of each operator.
9. Microinvest MINI CD – download of software products with demonstration data for acquaintance. The installation is done in several stages: firstly software products, demonstration data bases and additional applications are installed. Information with the most popular operations is in the test database, so it reflects the product operation in real working conditions.
10. Microinvest Order Assistant – application for automation of chef work and orders implementation in the restaurant. The most important addition if this module is visualization of order intake and implementation.
11. Microinvest Archiver Pro – automatic archiving program for operation with servers.
12. Microinvest online store. Electronic commerce is becoming more popular among people. Online store is great competitive advantage. Online store can be connected to Microinvest accounting software programs.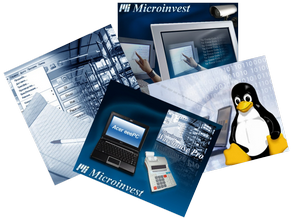 13. Microinvest Cocktail Mobile — solution for activity automation and acceleration. The system increases waiters' efficiency. For implementation of the system, the establishment is to be provided with Wi-Fi signal.
14. Web interface Microinvest Warehouse Pro Web is centralized module for stock inventory managing. Your clients can work with your firm database with the help of indicated Web-address.
15. Microinvest Warehouse Pro and 1С.Module is for connection Microinvest with 1С Bookkeeping version 8.
Vostok Company specialists can help you to select proper system that will meet all your requirements. Our specialists will adjust and launch the system. The most appropriate equipment will improve your business process.