Inventory on the basis of MOSkit software
Inventory on the basis of the data terminal CASIO and software MOSkit
Inventory automation: data terminals CASIO and software complex MOSkit
MOSkit – monitoring of fixed assets, software and hardware kit.
Your enterprise is expanding and developing. Soon it will be difficult for you to answer the questions: How many computers do you have? Where are traveling laptop and projector now? We have recently purchased new computer for accounting department, why should it be changed? Which fixed assets are belong to this or that employee? What property or equipment must be in this or that room? Some fixed assets can be non-registered and even non-marked.
In order to answer these questions, it is necessary to take stock of all the fixed assets. And in order to do it, it is necessary to implement automated fixed assets accounting system.
Attention please, this solution can be implemented easily and quickly, it instantly results in economic efficiency. This is very simple and reasonable solution, not MRP and not ERP.
The solution structure and general operation scheme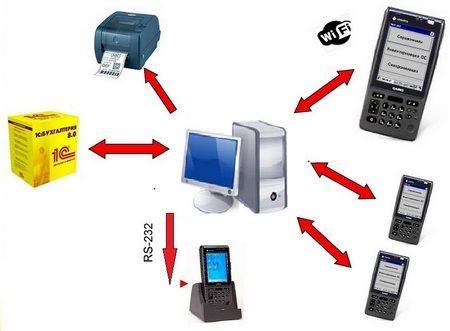 "Terminal" part
Data terminal
"Server part" – software MOSkit for computer
Label printer for inventory numbers printing
Consumable materials – labels, ink ribbon
Implementation service
Terminal part functions
Fixed assets information browsing
Marking of all the fixed assets (connection of specific barcode with definite fixed asset)
Fixed assets inventory
Entering of data about new fixed asset
Registration of all the fixed assets (according to storage areas and responsible persons)
Server part functions
Centralized data storage
Operations with fixed assets
Operations of data import/export into the main accounting system (1C: Enterprise)
Data exchange with data terminal
Barcode label printing
Making reports
Sequence of actions
Making electronic list of fixed assets (file xml)
Loading it into "server part" (export/import)
Label printing with unique barcodes
Fixed assets marking – module "marking"
Non-registered fixed assets detection – module "new fixed assets entering"
Usual fixed assets inventory – module "inventory"
Analysis
Making reports
Implementation effect
Time saving
Prompt fixed assets control
Money saving due to fixed assets loss prevention
It takes less time to implement the obligatory fixed assets inventory