Complex project in the garden supermarket "Botanic"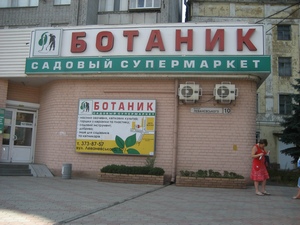 The Vostok Company has set video surveillance system in the supermarket "Botanic". System consists of six video cameras, computer and telephone network, insonation and warning system, and accounting automation system: two cash sites, two jobsites of commodity experts, accountant's jobsite.
Dedictated server on the Patriot Pro-6 base, six video cameras were installed for supervision of the shop floor, goods issue through the cash sites, control over goods inflow to the warehouse. Video system Patriot is notable for reliability, economization in consuming of resources, excellent in video data processing and analysis of events.
Insonation and warning system creates favorable atmosphere in the shop floors, promotes increasing amount of patrons and creating of loyal consumers audience: you would like to come back to the store again and again. Psychological comfort is as important as prices. Steady musical atmosphere is created by system consisted of 24 loudspeakers Dynacord DL-94 and amplifier Omnitronic MP-180 build into the ceiling. Attenuators E-Vol 100 are used for volume control in each of zones (territory in front of the store, in the shop floors, accounting department and administration office).
Computer network consists of eight jobsites. Network is designed on the base of D-LINK DES-1008D; cable Siemon CM4-E2 was used for cabling. Out and in telephone communication is provided by ministation Panasonic KX-TEM824RU.
But the main thing is accounting system.
The client has set objectives to automate trade operation, inventory accounting and mutual settlements with suppliers and clients. Platform "1C 7.7: Trade and Warehouse for Ukraine" was chosen as base for the system, thanks to its popularity and high flexibility. The Vostok Company changed and optimized default configuration of 1C for operation with shop equipment: bar code scanner, cheque printer, scales with bar code label printing and handling during selling. Besides all the client's wishes were taken into account and we added some functions for convenience of trade operations.
The Botanic Store is the central office of retail network "Dobrivo" and "Sadko". That's why one of the main demands was synchronization of sale and stock-taking information between stores, and also opportunity of operation with sole database at any of these stores. For such problem solving, the Vostok Company used components of "1C: managing of distributed databases". We used existing urban telephone network and Hayes-compatible modem for creating communications channels between stores. This solution helped to reduce extra costs for network equipment for organization of fast channels or connection to the Internet. Meanwhile, necessary security and stability of data synchronization were provided. Synchronization and exchange of the data is activated automatically periodically and in the manual mode.
It is not secret that cashier's position is the most unsteady. Interface of 1C was simplified as much as possible and access to the changing of important data was denied for the purpose of prompt adaptation of the new cashiers and in order to reduce mistakes.
Than in the process of system exploitation, specialists of the Vostok Company adapted 1C program for operation with on-line store: now the client can allocate goods from catalogue 1C on the web-site and automatically change information about prices and availability of goods in the store. Besides, orders from web-resource are automatically handled. System forms advance order, invoice, check out or data recording into customer card.
Jobsites
At commodity expert's jobsite label printer Zebra LP-2824 allows printing of label with bar code, marking of merchandise with out producer's bar code. It is notable that module of label printing in the 1C program is specifically adjusted. It can form necessary amount of labels for printing. Everything that commodity expert need to do is to check up bills of lading and confirm requests for printing of labels. Weight goods are packed and marked by bar code labels with help of cheque printing scales CAS-LP15.
Wireless bar code scanner Metrologic Voyager MS-9535 is used by commodity expert and head salesman for receiving of goods and inventory of the store. We tried to convince the client of reasonability of using data terminal, but price was determining factor. Actually work with wireless bar code scanner is rather efficient.
For performance of delivery goods to the warehouse two workers are essential: first one scans merchandises, second one checks up and enters data into the computer. It is the main difference between operation with wireless scanner and data terminal.
All delivered computers are supplied with operational systems Windows XP Professional. We would remind you that licensed software provides not only reliable operation of computers but safe functioning of the enterprise in whole. Slogan "Legality is the way to the success" is always actual.
Power supply. For provision of reliable power supply, power conditioner OPTIMUM+ 15000 was installed in the store. Computers, printers, bar code scanners and scales were connected to the 200V network trough the resources of stand by and emergency power supplies for undisturbed operation of accounting system. Time of operation from resources of emergency power is 15-20 minutes. Personnel have time to switch power to autonomous electric generator. Emergency lighting, accounting and video surveillance system are connected to the generator in order to reduce power consumption.
Besides delivery, mounting and adjustment of equipment, specialists of the Vostok Company have provided instructions and training for the personnel: cashiers, head salesmen, commodity experts and accountants. We gave consultation and recommendations about organization of store's operation. Negotiated service, technical and consulting support, full warranty and post warranty services are being performed at the moment. We provide the store with active storages – cartridges, labels, cash ribbons.
About client
Garden supermarket "Botanic" offers landscape and garden design, arrangement of green spaces, seeds, house plants, flowers, tiny trees, bushes, equipment and tools, fertilizers.
Contacts:
Dnepropetrovsk
10, Levanevskogo Street
Phone/fax: (056) 373-87-57
Web site: on line store of garden equipment